Summer DIY Projects for Your Next GNI
Materials needed: a tape-measure, glue-gun and big-batch margaritas.
Listen, I love a summer social event just as much as the next girl. Getting glam, wearing a new pair of strappy sandals, rolling the dice and wearing my hair down even though there's a humidity index of 70 percent (i.e. 70 percent chance of a doomed do) — it's all part of the fun, right? Totally.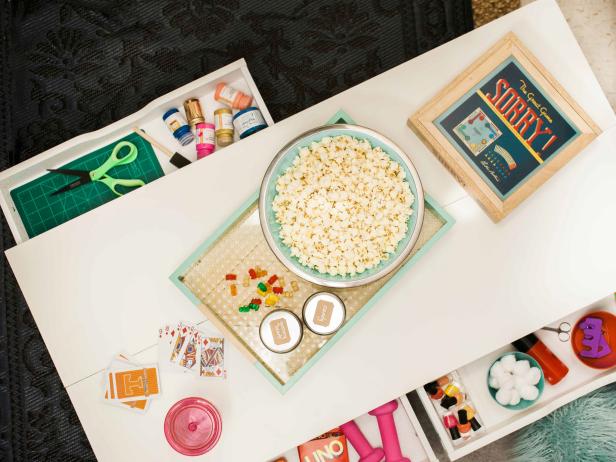 Dorm Room Takeover DIY Coffee Table With Drawer Storage and White Tabletop With Turquoise and Gold Breakfast Tray
Short on storage? Try this DIY shelf hack. We turned two wall shelves into a mobile coffee table by adding two sets of casters and mending plates. It can hold makeup, games, craft supplies and more! And when you need more space, you can simply roll it under the bed.
Jennie Andrews Photography
You know what else is fun? Air conditioning. Taking a heat hiatus, remaining indoors, getting your craft on in the company of your best gal pals. Booze is optional but encouraged (for aid in the creative process, of course).

Tired of battling the temps and looking for a little divine, DIY-project inspo for a girls' night in of your own? Allow me.

Go, girl, go! Try your hand at making some of our favorite crafts for travel: boho tassel keychain, a leather passport holder or a chic, tassel camera strap. Bonus: You'll be able to relive the good, GNI vibes wherever the wind blows you next.
The hostess with the mostest knows that personal touches are what make a party. Craft your own with some of our playful, pretty DIY projects that are perfect for hosting a summertime soiree.
Dip-dye a shoulder bag and whip up some stylish, bug-repelling bracelets to ensure you're feeling ~good vibes only~ at your next music festival appearance. Oh, and don't forget to pretty-up your cooler with a fresh coat of paint.
Get the bride tribe together and tackle a couple of prenuptial projects. Check out how to DIY sophisticated centerpieces and signage. Plus, learn to hand-letter curly calligraphy, too!
Balance is the key to happiness.
It may be the start of summer, but time flies. Before you know it, you'll be heading to school in the fall. Before you go, have your besties over and try out our designer-worthy, DIY dorm decor projects.

Add pretty, personalized touches to your dorm room with easy, budget-friendly DIY projects you can make in just a few hours.
Green thumbs, unite! Get the garden gals together and whip up some whimsical pots and planters for the back porch. Another idea: Host a BYOL (bring your own leaves) event and paint fresh, seasonal canvas art.
Get down to business. Invite your work wife over for happy hour at your house and tackle our sleek, chic DIY desk accessories project together.
Gather all the dog moms and kitty mamas on your block and take on some serious, pet-pampering projects for your four-legged, fluffy friend. (Or, in other words — four-legged, fluffy child.)
Whether you just want to indulge your pet or solve an existing problem, these DIY pet projects offer great ideas for making the most of life with your furry friend.