Make a Mobile Outdoor Coffee Table From Wooden Crates
Perfect for parties and totally kid-friendly, this mobile coffee table packs a stylish punch without denting your wallet. Just wait until everyone finds out you made it.
We're sorry, there seems to be an issue playing this video. Please refresh the page or try again in a moment. If you continue to have issues, please contact us here.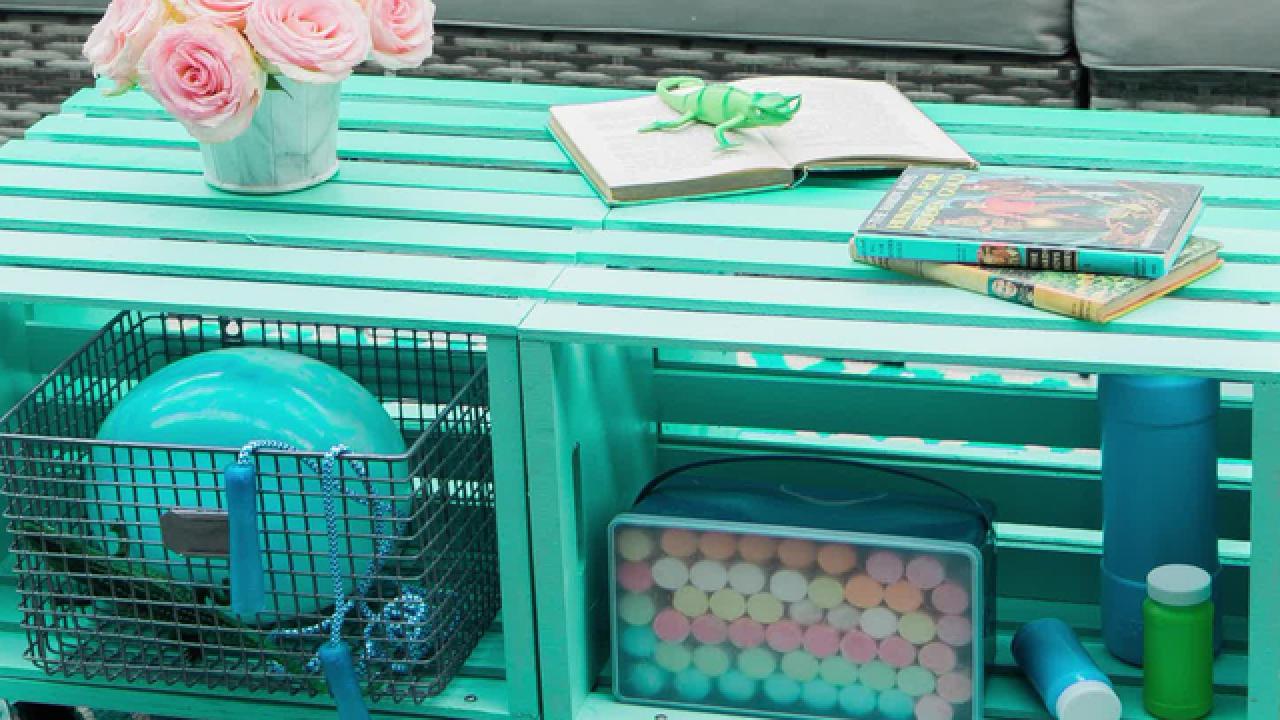 4 wood crates
3/4" plywood (19" x 36")
4 locking casters
drill
3/4" drill bit
3/4" wood screws
1 quart exterior paint (base color)
3 sample pods in darker shades
1" paintbrush
paint roller
paint trays
drop cloth
We're using standard crates from a big-box store that measure 9 1/2" x 18" x 12 1/2". First, lay them back to back in a group of four. The crates will sit on a 19" x 36" plywood base which you can cut yourself or have a hardware store cut for you. We used 3/4"-thick plywood.
You'll paint everything with the base color first, which in our case is a pale aqua exterior paint and primer combo. Swipe the paint and primer onto each of the four crates (Image 1) and the back and front of the plywood base (Image 2) to seal the wood since it's outdoors. Allow time to fully dry before moving on to the next step.
Once the paint is dry to the touch, place the plywood face down on a drop cloth, then position one caster in each corner. Secure the casters to the plywood using wood screws.
With the casters secured and wheels locked, flip the plywood base over so the wheels are on the ground. Now you're ready to place the crates in position, butting the backs up to one another so the open ends face out (Image 1). Secure the crates to the base and to each other using the 3/4-inch-long wood screws (Image 2).
Create an ombre effect on top using varying shades of your favorite hue. Leave two slats the base color, then paint the next two slats a slightly darker shade and the next two slats a darker shade and so on (Image 1, 2). Pro Tip: Buy the three darker shades of paint in sample sizes since this project is small in scale.