Give Your Entryway Design a Bold Makeover Inspired by 'Windy City Rehab'
Take a cue from Windy City Rehab and give your home's entryway a bold makeover with a painted accent wall.
Makeover a Boring Entryway With Blue Paint
Before, this entryway was boring. The white walls left those who entered the door wanting more and the space was in need of a bold makeover. To give the space an impactful new look, trim boards were installed along the wall, then the walls and trim were painted with Riverway from HGTV Home by Sherwin Williams.
One weekend is all you need to take your entryway from bland to bold with this easy accent wall transformation inspired by HGTV's Windy City Rehab. Best of all, you really only need paint. However, we recommend throwing up some trim pieces to enhance the look. So, if you're ready for your guests to "ooh" and "ahh" each time they cross your threshold, grab your paintbrush, because we have the DIY accent wall for you.
paint + primer
pencil
level
measuring tape
string
1x3 trim pieces
miter saw or circular saw
brad nailer + nails
construction adhesive
paint supplies
painter's tape
paintbrush
paint roller head
3/8" nap woven acrylic paint roller
Step 1: Create Your Design
After removing any furniture and wall hangings, step back and take a look at your bare wall. Envision what could be and, if it helps, jot some designs on a pad of paper.
Step 2: Find Your Perfect Shades
Step 3: Add Trim (Optional)
If you want to add trim to your wall, do so before painting. Measure and mark the wall to evenly space the trim, then cut it to length using a miter saw or circular saw. Using a level to ensure each piece is straight, nail them to the wall using a brad nailer, adding construction adhesive to the back of the boards for extra holding power (Images 1 - 4).
Pro Tip: No saw? No problem. Find your measurements before heading to the hardware store, then have the associate cut the boards to length.
Use a level to draw your design on the wall (Images 1 - 2). For curves, attach a string to a pencil to draw a perfect semicircle (Image 3). Once drawn, put painter's tape on the lines (Image 4).
Caulk around the trim to cover the gaps, following the instructions on the caulk tube for application and drying times.
Step 6: Brush Around the Details
Cut around the trim and any tight areas using an angled paintbrush.
Step 7: Roll the Larger Areas
Step 8: Accessorize Your Accent Wall
Once the paint dries, accessorize your accent wall with coat hooks and artwork, hanging up a combo of your go-to pieces and those that are simply too cool to hide in a closet (Images 1 - 3).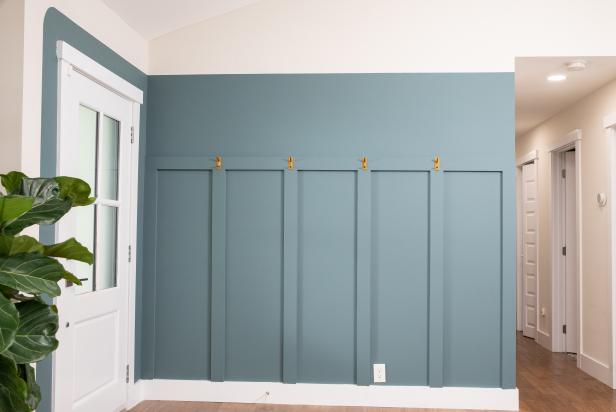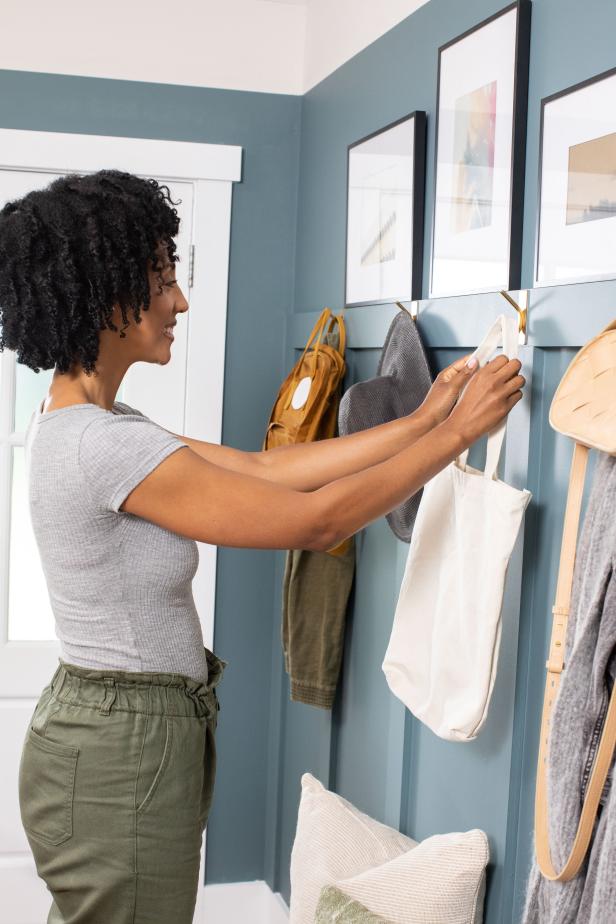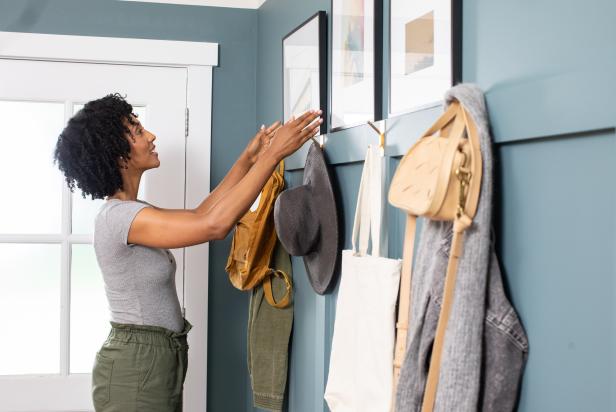 Bold Painted Trim Gives This Entryway a Wow Factor
A boring entryway sets the mood for your home the moment people walk through the door. To improve your home's first impressions, overhaul your entryway with paneling and bold paint from Sherwin Williams. This entryway is coated in Riverway from HGTV Home by Sherwin Williams.