How to Wash Shoes in the Washing Machine
Machine washing is an easy way to keep your shoes clean all year long.
Extend the lifespan of your everyday footwear with a simple cleaning routine. A washing machine offers convenience and can provide a much-needed deep clean to keep your kicks looking (and smelling) fresh.
Not all shoes in your closet are ideal candidates for machine washing, so do your research first. Athletic shoes made of polyester or nylon can handle the agitation and emerge looking clean. Heavy cotton or canvas shoes can withstand going through the wash, too; however, if all your shoes need is a simple spot-cleaning, there are easy, gentle methods for deep cleaning white shoes that can allow you to skip the full submerge.
MORE TIPS
Keep those kicks looking like new by following these easy tricks.
Keep in mind that there are many shoes that shouldn't go in the washing machine:
Your foam flip-flops, for example, would float. They're best hand washed in the sink.
Pumps, loafers, strappy sandals or other dress shoes should be cleaned by hand to protect the shoe construction.
Leather and suede shoes should be cleaned and conditioned by hand.
Hard-soled shoes or boots don't typically have enough flex to withstand agitation.
Shoes with embellishments like glitter or buckles will not do well when submerged and agitated in soapy water, so use your best judgment.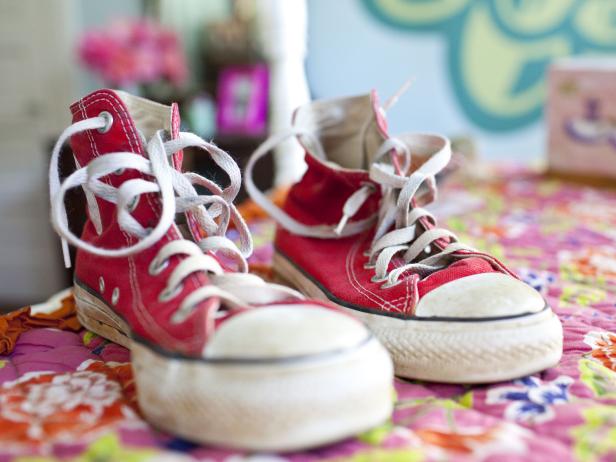 Nostalgia in the Form of Shoes
Nostalgia comes in all forms in Camille's room. Not only is the bed the same one her mom once slept in, but Camille has become a huge fan of the same iconic sneakers that were popular when her mom was her age: high-top Converse All Stars. Converse lovers can now create their own custom pair of high-tops or low-tops at Converse.com.
Follow these simple tips to eliminate dirt and odors in order to refresh your shoes.
baking soda
liquid laundry detergent
water
old towels
white vinegar
old toothbrush
rubber gloves
plastic wrap
Prepare and Pretreat Shoes
Before you throw the shoes straight into the washing machine, take steps to prepare them for success:
Remove any shoe inserts (insoles, gel cushions or other orthotics).
Remove laces and pretreat by soaking them in a bath of 1:1 white vinegar and water.
Treat the inside of the shoes to reduce smells. Pour a tablespoon of baking soda into each shoe and shake gently to distribute the powder.
Tackle spots and stains before laundering by soaking them directly with stain-removing spray.
Place shoes and laces in a mesh laundry bag for delicates. An old pillowcase is a good substitute if you don't have a mesh bag.
Run Shoes Through the Washing Machine
Place the shoes (in mesh bags) and several old towels into the washing machine. The towels help cushion the shoes during the cycle and prevent the machine from becoming imbalanced.
Add liquid detergent.
Set and run the washer on the most delicate wash cycle.
If you are washing white shoes and were considering bleach, rethink your decision! Instead, pour a cup of white vinegar into the wash after the shoes have submerged and are soaked with water. White vinegar is more delicate than bleach. Adding white vinegar at this stage in the cycle and allowing the cycle to complete will have a bleach-like effect on your whites.
Air drying is an important final step to the washing process. The heat from a dryer can damage the adhesives used in sole construction, so avoid it if possible. Reshape your shoe and leave it in a space to dry.
Once dry, you can thread the laces and replace the inserts.
When the shoes are dry, you may find that the soles are clean but the midsole edges are still stained. There are a number of factors including exposure to oxygen, heat and pollutants that cause white rubber and plastics on shoes to yellow. You can treat these stains using a UV-activated solution:
Apply sole cleaner directly to the rubber sole and edges of the shoe using an old toothbrush. Wear rubber gloves to protect your hands.
Wrap the sole and midsole of the shoe with a piece of plastic wrap from the kitchen. This will help prevent the solution from drying out when placed in the sun.
Place the shoes in the sun for one to six hours sole-side up and watch as the soles turn from yellowed to white.
After the treatment, remove and discard the plastic wrap and use one of the old towels to wipe away the excess solution left on the sole.
Use the toothbrush and soapy water to finish removing any solution remaining between the crevices on the sole and midsole.
Follow these simple steps to clean and condition your leather footwear.
Keep your suede shoes, clothing and accessories looking like new with these tips.