How to Repair and Refinish Laminate Countertops
Learn how to repair scratches, gouges and chips; plus get the lowdown on paints and refinishing kits made to transform old countertops.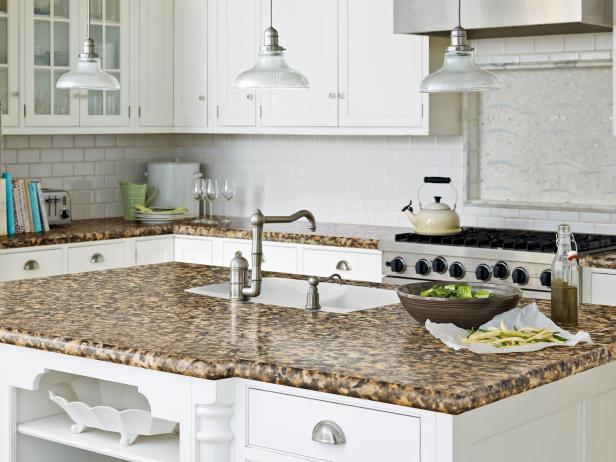 Imitation Granite Countertop in Traditional White Kitchen
Countertops continue to define a kitchen's style — but they don't have to be a budget-buster. This granite look-alike from Wilsonart is actually laminate but unlike previous laminate countertops features a more realistic, larger stone pattern and rounded edge for a high-end granite look at a fraction of the price. Image courtesy of Wilsonart
Tired of your worn-out laminate countertops? Weary of looking at the same old stains and battle scars? Does the color remind you of a bad childhood dream?
Take heart, there's good news. You can repair your chipped and aging laminate countertops using simple techniques and, in some cases, common household products you probably have around the house.
If you're looking to give your countertops a whole new look but are watching your budget, you can completely transform them for less than $300. Refinishing kits and tough peel-and-stick vinyl coverings are tailor-made for the DIYer, and the results are dead ringers for real granite slabs.
Want to spend even less? Paint laminate tops to make them look like granite, using your creative chops to produce beautiful, durable results you'll be proud to show off. As a bonus: You'll be recycling your countertops while they're in place, keeping your old counters out of landfills and contributing to sustainability.
Small scratches, gouges and chips can be fixed with laminate repair paste or a color-matched repair pen, available at most hardware stores and home improvement centers. Choose the color that most closely matches your countertop color. $8.
Once hardened, you won't have the opportunity to sand any excess without damaging the surrounding laminate, so fill each blemish carefully, and don't overfill. The object is to camouflage the defect.
Stains can be removed using a paste made from baking soda and water. Put the paste on the stain and let it work for a couple of hours — don't rub. Gently wipe off with a paper towel.
For more stubborn stains, try a little nail polish remover on a clean rag (use white rags so you won't get fabric color on the countertop). Other solvents to try include paint thinner, denatured alcohol and acetone. Use sparingly.
Strokes of Genius — Painting Your Laminate
Transform your laminate countertops using paint — the ultimate DIYer's friend. Faux granite is one of the most forgiving of all decorative painting projects — the mottled look is easy to get using sponges and a dabbing motion, and you can just keep going until it looks right. It's ideal for large surfaces, such as countertops.
Take note: The quality of your finished countertop job is very dependent on how good your prep work is. Follow these guidelines:
Clean the countertop with soap and water to remove dirt and smudges. TSP works great for reliable cleansing but isn't the most environmentally friendly product; instead, opt for a commercial "green cleaner," or make your own from equal parts warm water and vinegar.
Follow with a wipe of denatured alcohol. Don't touch the countertop again! Your fingertips have oils that contaminate pristine surfaces.
Got a curious kid or a cat that sheds? Keep kids and pets out of the work area.
Remove old caulk from seams around sinks and faucets.
Repair chips and large cracks (more than 1/8-inch wide) with a two-part epoxy putty. Let the putty dry thoroughly, then sand the putty smooth.
Apply painter's tape to everything you don't want to paint, including your sink, faucets and backsplash. Make no mistake — applying painter's tape is more of an art than folks often realize. Take your time and make sure there's good adhesion in all those little places, such as where a faucet base touches the countertop.
To ensure maximum adhesion for the base coat, de-gloss the entire countertop with 100-grit sandpaper. Wipe up the residue with a tack rag and check for any missed spots with a flashlight.
Apply a good-quality oil-based primer and let dry for at least 4 hours.
To get a granite look, you'll apply at least three different shades of paint, working from light to dark, or vice versa. The first coat is your base coat and should completely cover all surfaces.
Add subsequent layers with a sponge, dabbing in random patterns. Here are some tips:
Study real granite at any home improvement center. If you find samples you like, note the various colors and hues so you can reproduce them at home.
Apply coats while the previous layer is still slightly damp. That way, the colors will blend slightly.
Add grain with a feather lightly swiped across still-damp paint. Use this effect sparingly.
Add veins with a fine-tipped artist brush dipped in a contrasting color — pure white or black are good choices. A little bit goes a long way.
Lightly sprinkle pinches of gold or silver glitter flakes over the last coat of paint (but before applying the protective topcoats). Natural granite often features flecks of quartz embedded in the stone.
After painting is complete, apply at least two acrylic polyurethane topcoats, using a dense foam roller.
Countertop Refinishing Products
Pre-assembled kits help the DIYer get all the ingredients together. Most kits include pre-selected paints so the final color blend is realistic.
Armor Garage specializes in tough coatings for garage floors, but their expertise extends to refinishing products specifically for laminate countertops. Each Armor Granite kit covers about 50 square feet of countertop, and includes all brushes, rollers and finishing coatings.

This product offers thicker coatings than typical countertop refinishing products, and the finish is heat-resistant — a rarity for painted finishes.

Armor Granite kits are pricier than most, and colors are somewhat limited. Prices range from $279 to $$320, depending on the color of the finish.
Giani Granite paint kits come with various tones of paint that you apply one at a time to create that mottled, granite look. Two coats of clear sealer (included) protect the paint.

There's a wide variety of colors to choose from, and a paint kit with topcoat, color layers and protective finishes is only $70.
Countertop Transformations from Rust-Oleum is designed specifically for laminate countertops. The kit features stone-like chips that are sprinkled onto the wet surface of the base layer to create a granite-like texture.

A critical step is de-glossing the existing surface to ensure good adhesion. This kit includes a diamond-embedded sanding block specifically made for thorough de-glossing.

Kits come in many colors. You'll pay $250 for a kit.
Countertop Tranfauxmations is a tutorial — not a full painting kit — that guides you through the process of painting your countertops. You get an instructional DVD, a guide to paint combinations (using Benjamin Moore paints), a brush and a dabbing sponge for $45. Or, spend $15 to download the instructional video from the website.
Not that artistic? Peel-and-stick vinyl sheets from EZ Instant Makeover mimic real granite, even stainless steel and nickel finishes. A 3-by-12-foot sheet is $90.
You can apply the sheets in minutes, although good surface prep is vital, as any defects will show through the sheet. De-glossing your countertop surface (and wiping up any dust with a tack rag) helps long-term adhesion.
As you might imagine, DIY painting, refinishing kits and stick-on products are tough, but they're not invincible.
Don't set hot items on them — use a trivet or hot pad.
Don't cut or pound on them — use cutting boards.
Wipe up spills immediately.
Pro Services for the Un-Handy
Like the idea of a low-cost kitchen makeover but don't trust your thumbs? Pro refinishing services will re-do your laminate countertops for you. You get all the benefits — no tear-out, fast turnaround and a complete budget-friendly countertop redo — at a slightly higher price. Plus, you'll have an experienced pro doing the work.
You'll pay $400 to $650 for an average kitchen countertop refinishing, and the pros will be in and out of your home in about four hours. A five-year warranty is standard.
Get-A-Grip products are made for refinishing cabinets, ceramic tile, and both laminate and cultured marble countertops.
Munro Products specializes in cabinet refinishing, but also makes a system called SurBond for refinishing laminate countertops.