The 8 Best Gas Grills for Every Patio and Budget
Grilling season is coming in hot! Find out which gas grill is the best fit for your space, and discover important details to look for before buying.
Keep in mind: Price and stock could change after publish date, and we may make money from these links.
In theory, charcoal grills are pretty charming. They give you the true hands-on experience of cooking over an open flame, allow you to sear your food to perfection and provide that quintessentially smoky flavor you want when barbecuing. (Their cheap price tags don't hurt either.)
In practice, though? Charcoal grills usually take a while to heat up, which isn't super convenient for weeknights. Sometimes, you want to switch on the grill and have dinner roasted and ready to eat in minutes. And when that time comes, it pays to have a gas grill on deck. Below, we share eight gas grills that we love and break down everything that you need to know about buying one.
Choosing the Best Gas Grill
Shopping for gas grills can be overwhelming if you're not familiar with the terminology. So we'll walk you through the basics. To start, you need to know that there are actually two different types: Propane and natural. Propane gas grills are the more popular option that you typically see in-store, and they require a propane tank to work. (These usually cost about $20-$40.) Meanwhile, natural gas grills need to be hooked up to a direct natural gas line from your house. Natural gas grills never really run out of fuel, but they do need to be installed by a professional and they can't be moved around.
Other important details to keep in mind? Ignition switches, burners and primary cooking surface. Gas grills use either electric igniters, which run on batteries, or piezo igniters, which produce their own sparks. Both are reliable, but piezos understandably tend to last longer. As far as burners go, a grill with one to three burners is generally considered a good fit for single families, while a grill with four or more burners is ideal for multiple courses or large gatherings. And as a general rule of thumb, 300- to 400-square-inch primary cooking surfaces will get you a pretty decent medium-sized grill.
With three high-performance burners, easy-to-use dials and a tricked-out open-cart design from a name brand you can trust, the Weber Spirit II E-310 is the total package. We love how the layout is intuitive for beginners and experts alike; when you step up to the 424-square-inch cooking area, you immediately have a built-in thermometer, two handy side tables and six hooks for tools at your disposal. (Plus a lower shelf for extra storage.) Meanwhile, an integrated grease management system provides a virtually effortless cleanup. All in all, it's an amazing value at $520.
Best Budget-Friendly Gas Grill
If you're looking for more of an introductory grill that's under $200, then check out this Dyna-Glo Three-Burner Open Cart. At $119, it's one of the most budget-friendly gas grills on the market, and it still gets you a lot of bang for your buck. Think 310 square inches of primary cooking surface, three burners, two side tables and a convenient rolling cart design. Reviewers love the Dyna-Glo's compact size, too, and how easy it is to clean and store. It's a great value, especially for such an unbeatable price.
Best Gas Grill for Apartments
The reviews don't lie: Renters love the Char-Broil Performance Series Two-Burner Gas Grill. It's easy to assemble, boasts a 300-square-inch primary cooking surface that's perfect for up to four people and it's incredibly compact, with a sleek central cabinet and two side tables that fold out of the way. The gas grill also features four caster wheels (two of which lock), so you can easily move it around your patio or balcony. If you're looking for a reliable grill with a smaller footprint, this is it.
Life can get pretty busy, so it's nice to have a grill that lets you monitor your food's temperature and cook time from anywhere in the house. Our top choice for smart gas grills is the Weber Genesis II EX-315 because it's just so conducive to entertaining. The generous, 513-square-inch primary cooking surface fits up to 20 burgers, while the integrated smart grilling technology sends real-time alerts to your phone so you can chat or catch the game. Better still? The grill also boasts back-lit control knobs and an LED-lit handle, so you can keep the party going at night. For the tech and the bells and whistles, it's a great deal.
When it comes to quality, performance and price (under $1,500), the Weber Genesis II S-335 is one of the best natural gas grills on the market. The sleek, stainless steel unit is built to last and boasts a 513-square-inch primary cooking surface, three burners, a side burner and a "sear station" burner, thus giving you a ton of grilling options. The natural gas grill also includes a built-in temperature gauge, two storage shelves, six tool hooks and a grease management system. It exceeds reviewers' expectations, and it's on sale right now.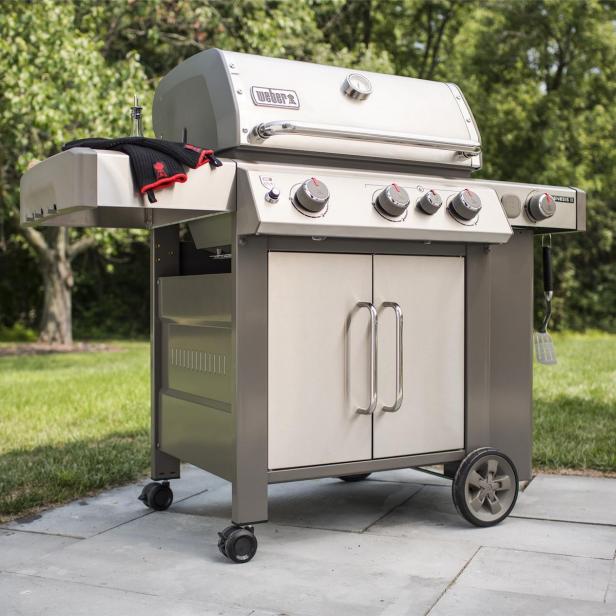 Buy It
Best Charcoal and Gas Grill Combo
Because some nights you want the flavor of charcoal and other nights you want the convenience of gas, but you never want two grills sitting in storage. We get it, and we've found the perfect solution: The Char-Griller Double Play. This unique dual-function grill combines your charcoal and gas into one cohesive and compact unit. On the left, you have three main burners and one side burner for gas, and on the right, you have an easy-dump ash pan for charcoal. The right side is also firebox compatible, so you can get that true smokehouse flavor.
Best Gas Grill for Camping and Tailgating
Whether you're camping or tailgating, you need a grill that's portable, easy to set up, and capable of cooking for at least a few people. And this Coleman RoadTrip 285 Gas Grill delivers on all fronts. In seconds, the unit converts into a sturdy, freestanding cook station, with two pull-out tables and three independent burners. The cooktop is also customizable, so you can swap the grill for a griddle (sold separately) if desired. Meanwhile, a telescoping handle and two wheels make it easy to break the grill down and roll it back to your car.
Best Gas Grill for RVs and Road Trips
When you're on the road, you can't guarantee that there will be a picnic table nearby — so a portable gas grill with legs is essential. We love the Cuisinart Petit Gas Grill With VeraStand because it weighs just 17 pounds, it's extremely compact and it converts into a freestanding grill. The 160-square-inch cooking surface is also ideal if you're traveling by yourself or with one other person.
Be the grill master you were meant to be with these barbecuing essentials.
Skip the hotdogs and hamburgers and whip up a few of these crowd-pleasing dishes.