5 Ways Clean a Microwave Naturally
Clean that dirty microwave with these all-natural methods using everyday pantry items.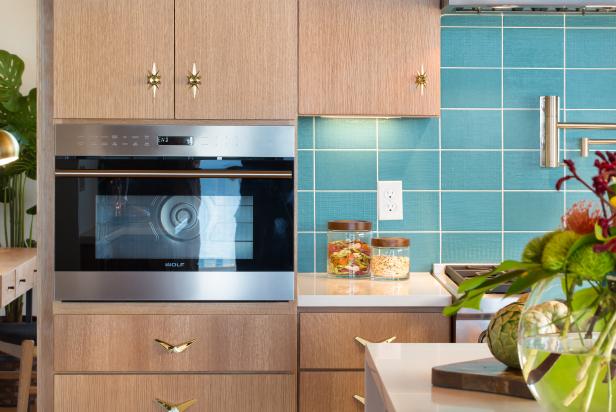 Midcentury Modern Kitchen With Blue Backsplash
Unusual pulls for drawers and cabinets can instantly give any room a new, fresh look. This kitchen goes in a midcentury modern direction.
Wynne H Earle Photography
If stubborn splatters, spills and fingerprints cover the inside and outside of your microwave, use this quick all-natural cleaning hack to make it look like new. All you need is a few simple items from the pantry.
Get more HGTV
How to Clean a Microwave
01:19
This microwave cleaning hack requires very minimal effort.
distilled white vinegar
cream of tartar
olive oil
Pour 2 inches of vinegar into a microwaveable bowl and place inside the microwave (Image 1). Heat for 2 minutes, or until the microwave is steamy inside (Image 2). Remove the hot bowl with a towel (Image 3) and wipe down the inside (Image 4).
Combine equal parts cream of tartar and water to make a quick paste (Image 1). Then apply to the outside of the microwave (Image 2). Polish off with a dab of olive oil (Image 3).
MORE WAYS TO CLEAN YOUR MICROWAVE
Soap and water: It's the obvious solution, but nothing beats a sudsy sponge and some hot water. Remove the turntable and scrub down the inside of your microwave, then rinse the sponge and wipe down the top and sides until there is no more soap residue. Dry with paper towels or a microfiber cloth.
Hot lemon water: Slice a lemon in half and squeeze the juice into a microwaveable bowl filled with 1/2 cup of water. Drop the lemon halves into the bowl. Heat in the microwave for about 3 minutes, or until the liquid comes to a boil. Wipe down the inside with a cloth or paper towel.
Baking soda: Make a quick paste by combining two parts baking soda to one part warm water. Apply the paste to the dirty spills and spots inside the microwave and let it sit for 5 to 10 minutes. Then wipe off the baking soda mixture with a damp cloth or paper towel.
Baking soda and vinegar: Add 4 tablespoons of baking soda to a quart of warm water. Mix thoroughly. Dip a sponge into the mixture and apply to the inside of the microwave. Next, pour equal parts water and distilled vinegar into a microwaveable bowl. Place the bowl inside the microwave and heat for about three minutes or until the liquid is boiling. Keep the door closed for about 5 minutes to allow steam to build up. Remove the bowl and wipe down the inside with a cloth or paper towel.
Dishwashers, refrigerators and washing machines come clean pronto with these quick tips.
Keeping your washing machine clean and well maintained will help keep it working for years to come.
On a mission to get the freshest cup of joe, we tested single-use cleaning pods to see how they worked.