Should You Add Garage Insulation? How to Choose.
From standard fiberglass insulation to high-end spray foam, there are several ways to properly insulate your garage from extreme heat and cold.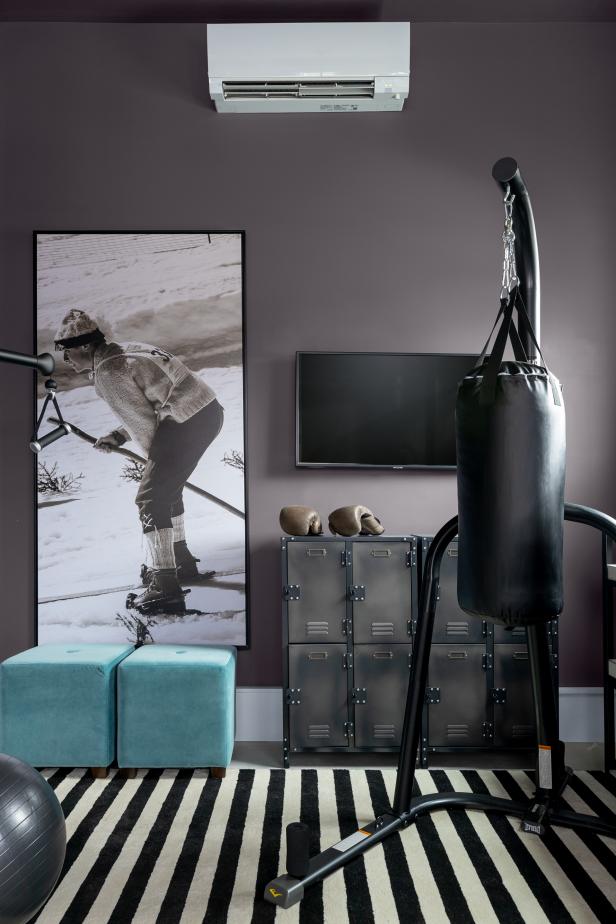 What a Workout
Insulating a garage can lower your utility bills while turning your garage into a comfortable space for uses besides parking your car.
Tomas Espinoza
Insulating a garage can lower your utility bills while turning your garage into a comfortable space for uses besides parking your car.
Insulating a garage should be your first step toward transforming your garage into a more usable space. Garage insulation can lower your utility bills while turning your garage into a comfortable space to do whatever you wish. Whether you've dreamed of turning your garage into a home gym, a workshop for knocking out weekend DIY projects, a short-term rental unit or simply a safe and functional storage space, choosing the right garage insulation is a game-changer.
Do you really need to insulate a garage? If you're currently heating or cooling an uninsulated garage, insulation will make a major difference. However, if you don't plan to add supplemental heat or cooling to the garage space, adding insulation won't necessarily be much of an upgrade.
For attached garages, the common walls and ceiling separating your living spaces from the garage are likely already insulated. In theory, insulating the exterior garage walls will allow the space to act as a buffer by slowing the heat transfer from your home, which will be of some benefit. However, insulating a detached garage without heating or cooling the space won't be beneficial and can even lead to moisture issues.
While homes are becoming more and more energy efficient every day, exterior garage walls are still rarely insulated. If you're simply storing your car in the garage, which is the intended purpose, you don't need insulation. However, if you plan to use your garage like an extension of your home, as many homeowners do, adding insulation can definitely be a worthwhile upgrade.
Here are some of the benefits of insulating a garage:
Lowers utility bills. Attached garage insulation can reduce the cost to heat or cool your home.
Creates more comfortable living spaces. An insulated garage makes it easier to control the comfort in adjacent spaces.
Creates a more flexible space. Insulating a garage can transform it into a space with more uses — workshop, exercise room, etc.
Prolongs HVAC life. Garage insulation can lower the necessary output of your home's HVAC system, which can prolong the life of the unit.
Offers better control of your home's environment. Fully insulating your home will allow greater climate control over your entire space.
Decreases noise level inside your home. Garage insulation can drastically decrease the noise in your home.
More Advice
Adding insulation to a garage is the easiest do-it-yourself job in a renovation or new build.
Learn How
Heat naturally gravitates toward cold, meaning your garage's heat will want to leave in the winter, while the heat outside will want to enter in the summer. When shopping for insulation for garages, you'll come across a rating called R-Value. This represents the insulation's effectiveness at slowing the aforementioned heat transfer. When installed properly, insulation with a higher R-Value will outperform options with lower R-Values, but the added performance typically comes at a higher upfront cost.
While higher R-Values indicate better insulative quality per inch of insulative material, your garage doesn't necessarily need the highest R-Value insulation to achieve the results you're after. When in doubt, check the building codes for your climate zone to help determine which R-Value is necessary for your garage's insulation.
Types of Garage Insulation
There are several different types of insulation for a garage, each with its own best use case. Getting to know the different types of garage insulation is the first step in the process of properly insulating your garage. Some insulation types are more DIY friendly, while others are better left to the pros. Some are pricier, while others will help you save some money for other popular garage upgrades like epoxy floors, dedicated HVAC units and heavy-duty shelving for storage and organization.
Top Picks
We rounded up the best organizers to tackle the worst parts of the home to clean.
So, what type of insulation is best for a garage? Below are the five common types of insulation used for garages.
1. Fiberglass Garage Insulation
Fiberglass insulation is likely the material you picture when you think insulation — that's right, the fluffy pink stuff. This is because fiberglass is the most commonly used insulation for homes, garages and most other types of buildings. Widely available in wall-length batts or rolls that are pre-cut to fit between studs and joists, fiberglass insulation is incredibly DIY friendly. However, if your garage already has drywall or plywood covering the framing, you'll have to remove it before installing fiberglass insulation.
2. Cellulose Garage Insulation
Cellulose insulation is a loose-fill insulation material made up of recycled newspapers (and other materials) coated with fire retardant and insecticide. Because cellulose is loose rather than tied together in the form of batts or rolls like fiberglass insulation, it must be blown into place using a blower. This means it requires additional materials like drywall to hold it in place. Additionally, the loose makeup of cellulose insulation makes it ideal for filling holes and awkward tight spots within your garage's framing.
3. Rigid Foam Garage Insulation
Rigid foam insulation comes in 4-foot-by-8-foot sheets, ranging from 1/2 inch to 4 inches thick, that are cut to size upon installation. It can be fit into incredibly thin spaces, which makes it an extremely versatile option. Its thin form and high R-Value make rigid foam insulation one of the best options for insulating a garage. Additionally, rigid foam can be used to supplement fiberglass or cellulose insulation to increase the overall R-Value rating.
Pro Tip: The sheet construction of rigid foam means it can easily be mounted directly to solid wall surfaces, such as cinderblock and concrete walls.
4. Spray Foam Garage Insulation
Spray foam insulation is for those who want to splurge on their garage insulation project. In fact, some say spray foam is over-the-top for the average garage's insulation needs. However, for a detached garage in colder climates, it's hard to beat the effectiveness of spray foam insulation. Installation of spray foam is better left to professionals, which adds to the cost of this more expensive insulation type. Spray foam can be applied before drywall, tin or plywood is installed, or after by drilling strategic holes through which the insulation is added. This process is called injection foam.
Spray foam insulation is available in both open-cell and closed-cell foam. Open cell is a softer foam with a lower R-Value, while closed cell is denser with a higher R-Value.
5. Garage Door Insulation
Don't forget to insulate your garage door, too. If not, you will notice a significant amount of heat transfer through the door itself, which can drastically impact the garage's internal temperature. There are several ways to insulate a garage door, but many homeowners opt for garage door insulation kits consisting of fiberglass insulation sheets with vinyl covers. However, rigid foam is another great option for insulating a garage door, as it can be cut to fit inside each panel.
Pro Tip: If your garage door is in need of an update, skip the garage door insulation kit and opt instead for an insulated garage door.
Step-by-Step
Keep your garage warm in winter and cool in the summer by installing insulation on the door.
Get Started
Choosing Insulation for a Garage
To choose the right insulation for a garage, start by putting together a budget and identifying your options. There's no reason to blow your budget on insulation, as the more budget-friendly options can still be effective. Decide if you want to tackle the installation yourself or hire a pro, and don't forget to include the added cost of labor in your budget.
Once you've identified the options that fall within your budget, use the guide above to determine which insulation is best for your garage's needs. If you have bare studs, fiberglass insulation is likely your best bet. If you live in an extremely cold climate, spray foam may be warranted. Don't want to completely rip out your drywall? Opt for cellulose insulation. With the garage insulation options above, there's guaranteed to be a good option to fit any garage, budget and DIY skill level.
Tips for Properly Insulating a Garage
Ready to insulate your garage? Here are a few tips to get the most out of your garage insulation project:
Don't cover soffits vents. When insulating a garage ceiling, be careful not to cover any vented soffits. Doing so can cause costly damages later on.
Make sure it's airtight. Before installing insulation, seal every gap, crack or hole in your exterior walls.
Seal around the garage door. Make sure your garage door is properly sealed around the sides, top and bottom when closed.
Consider upgrading garage door springs. When adding insulation to a garage door, consider upgrading older garage door springs, as the added weight may be too much for them to handle.
Opt for a vapor barrier when necessary. If you're heating your garage in a colder climate, place a vapor barrier on the interior side of the insulation. If you're cooling your garage in a hotter climate, place a vapor barrier on the exterior side. When in doubt, check your local building codes as well as the manufacturer's recommendations on your chosen insulation type.