Tips for a Raised-Bed Vegetable Garden
Raised-bed vegetable gardening takes very little space and allows vegetables to be grown closer together.
Raised-bed gardening is a great way to grow vegetables — especially if the native soil is poor or compacted or has poor drainage. And there's no bending over to pull weeds or harvest vegetables.
Hortus, Ltd./P. Allen Smith
Garden designer P. Allen Smith incorporated formal raised vegetable beds into the landscape at his Garden Home in Little Rock.
Raised beds take very little space, and can be built right over a concrete patio if lined properly. Drainage in a raised bed is superior to that in an in-ground garden bed. A 12"-deep bed provides ample room for most vegetable roots.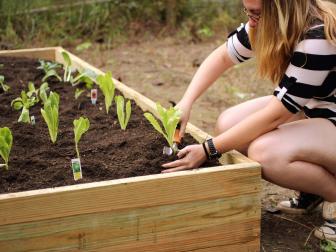 Easy DIY
Easy DIY
Take your garden to the next level with this easy raised bed project. Your plants (and wallet) will thank you.
Get Started
The soil in raised beds warms up more quickly in spring so planting can be done earlier. And if the bed is narrow, 3' or less, there will be no need to step on the soil and thus it prevents compaction. It's much easier for roots to grow in loose soil.
Don't build a raised bed on a wooden deck: when the bed is full of soil and water, its weight could cause structural damage.
If the raised bed sits directly on the soil, line the planting bed with hardware cloth or chicken wire at building time to prevent visits from burrowing animals such as gophers and moles.
The bed may be made of wood, stone, brick, cinderblocks or any other material from which you can build a base at least 12" deep. Choose a location that gets at least six hours of direct sunlight each day. Almost any type of vegetables can be grown in raised beds. Exceptions are potatoes, whose roots need a lot of room, and most varieties of corn, which would grow so high that harvesting would be difficult.
How to Plant a Raised Bed Garden
Fill the bed with good-quality potting soil or compost, and rake the surface smooth and level. Remove any rocks or debris.


Plants in raised beds may be spaced a little closer together because fertilizer and manure can be concentrated in the small gardening area.


Plant lettuce by poking holes in the soil with your finger at 6" intervals, and sprinkle a few seeds into each hole. Once the seeds germinate, thin to one seedling per hole.


You can also broadcast seeds over the surface of the raised bed. If you plant carrots, apply fine-textured potting soil over the top of the seeds. Carrots will attract some species of butterflies to your raised beds.


Cucumbers may be planted along the edge of the raised bed, where they can trail over the side.


Water the garden well immediately after planting and apply mulch around plants to limit evaporation and control weeds.
Click here to get our editorial director's latest advice on where to buy vegetable plants online.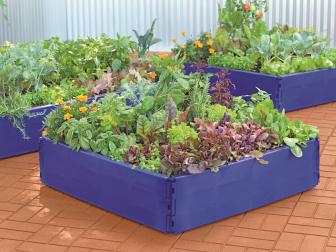 Discover different types of raised garden bed styles and get inspired to create your own with these pictures.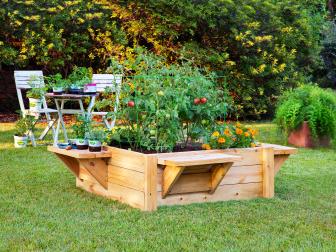 Whether you build your own or buy a kit, you can use them to grow anything from herbs to shrubs and small trees.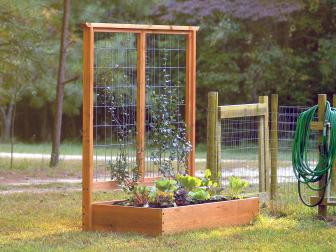 Raised beds make gardening easy. Get step-by-step instructions for constructing a raised garden of your own that will last for years.
Watch How to Build a Raised Bed
01:13
Learn several reasons to start gardening with raised beds.