How to Organize a Closet: Tips for Clearing Closet Clutter
Get the organized closet of your dreams with our strategies for storing clothes, photos and art supplies. Plus, learn how to turn your closet into a home office.
Keep in mind: Price and stock could change after publish date, and we may make money from these affiliate links.
Here are some organizing ideas for closets that will help you find extra prep time on busy weekday mornings, extra space ... and maybe even that missing shoe.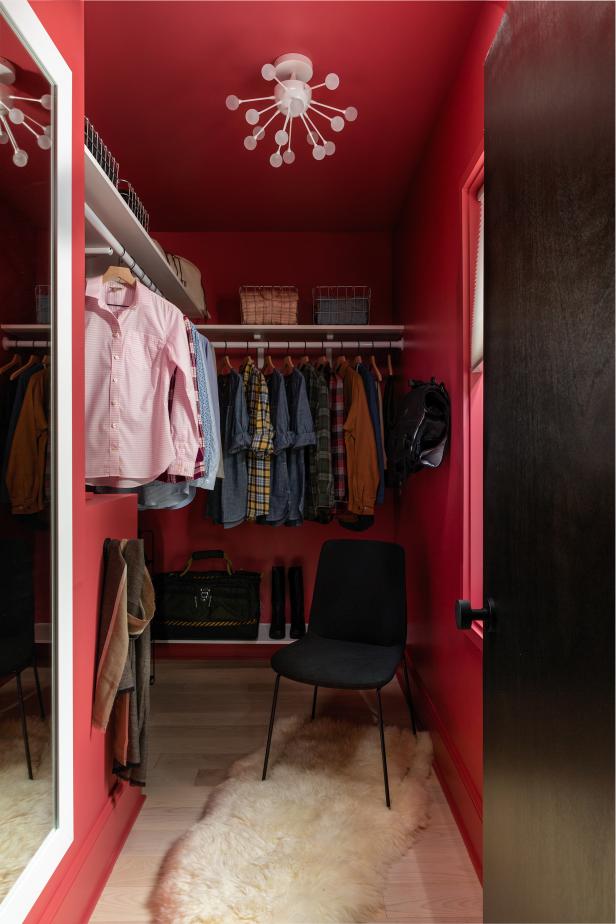 Accent Pieces
A modern matte white-framed wall mirror offers a way to check out outfits before you head out the door. A handmade natural sheepskin rug adds coziness under the master closet's modern black chair.
How to Organize Clothes: Sort and Sell
SORT STEP 1: Throw away any clothes that are soiled or torn beyond repair.
SORT STEP 2: Organizer Monica Ricci recommends sorting items one at a time into piles based on the following criteria:
Love It:

You wear it faithfully and like how it looks on you.


Hate It:

You never wear it because it doesn't fit or you bought it because it was a bargain.


Like It:

You wear it fairly often. It's also a key player in a few outfits.


Undecided:

This is the pile for things you want to get rid of but are holding onto because they were gifts or were expensive purchases.
Once the closet is empty, follow these four steps to determine what stays and what goes.
Set aside everything in the Love It and Like It piles.


Package everything in the Hate It pile for charity or resale.


Sort the Undecided pile piece-by-piece and separate the items based on Love It, Like It or Hate It.
Decide what each piece currently means to you, not what it meant to you years ago. Be ruthless. Beware of the piece of clothing that cost a ton of money when it was new. The fact that it's in the Undecided pile means you haven't had it on recently or you're iffy on when you're going to wear it next.
Call your local consignment store for guidelines on resale and how the profit will be split — 50/50 is ideal. Also, ask what happens to your clothes if they don't sell; most consignment stores will donate anything that doesn't sell within a certain period of time to a shelter or nonprofit organization.
MORE TOP TIPS
Streamline your wardrobe with the help of these designer closet organization ideas including floating shelves, storage bins, wall hooks, drawer dividers and more.
Get Your Closet In Order
Choose the Best Closet Organizer
After you purge your closet and before you hang everything back in your closet, evaluate the interior and determine your storage options. According to organizer Candita Clayton, one of the most common blunders — besides stuffing your closet with items you don't wear — is the lack of hanging bars and shelves and inadequate storage for specific items like accessories and shoes. Candita's first rule for a functional closet is creating flexible hanging space with adjustable poles and shelves that can accommodate a variety of pieces.
short-hanging pieces (like blouses)
long-hanging pieces (like dresses)
shoes
handbags
folded clothing (like sweaters)
accessories (like belts)
With these numbers, figure out what will suit your clothing storage best. If the majority of your items are on hangers, then be sure to incorporate rods at different levels for short-, medium- and long-hanging items. Install shelves or small cubbies for shoes and handbags, and incorporate hooks for belts, scarves and jewelry.
Consider arranging your clothes by:
color
event (casual, work, formal)
type (shirts, pants, shorts)
complete outfits (with jewelry and shoes, too!)
Shop Top-Rated Closet Organizers
MORE TOP TIPS
Make the most of your wardrobe, however big or small, with a closet system that will do the sorting and organizing for you.
Shop Our Top Picks
Organize the Linen Closet
Are your sheets and towels a jumbled mess? Professional organizer Pam Hix has 10 tips to help you get your linen closet stocked, straightened and organized.
If linen storage space is limited, decorate the bathroom with towels. Hand towels and face cloths can be rolled and stored in wicker baskets or layered on a shelf in the bathroom.


Stacking towels with folded sides out, like they are displayed in stores, will make it easy to remove the towels one at a time. When towel edges face out, it's tough to grab just one.


Slip sheet sets inside their coordinating pillowcases. It keeps the closet neater and saves time when making beds because there's no need to go through a mess of odd sheets. Put a

lavender sachet

in with the linens to keep them smelling fresh while stored.


Keep

two sets of sheets

for each bed — one for the bed, another for backup. That way there is no wasted time folding, and extra sheets are not taking up space in the closet.


When putting away fresh linens, be sure to rotate them so that one set does not get more worn than another. Put the newly washed towels and sheets on the bottom, and always work from the top.


Store seldom-used linens by folding them wrong side out. This prevents dust from showing on the crease line. Little-used linens should also be stored away from the linen area that is used daily. It does not make sense to use a valuable storage area for something that is not used often.


Try hanging tablecloths on towel racks mounted on the back of the linen closet door to save space.


Keep toilet paper on the floor under the lowest shelf. Keep extra soaps, shampoos, toothpaste and other items in a basket on the floor next to the paper. They can be placed in bins and categorized, according to use, then labeled. Keep any items that are hazardous to children out of these low areas.


Store bed linens in the bedroom where they are used. They can be stored on a shelf or even tucked between the mattress and box spring.


Linens with a holiday or seasonal theme, such as

flannel sheets, should not be stored in a linen area during the offseason. They can easily be boxed up and stored in the basement, attic or even under the bed.
MORE TOP TIPS
Think space-saving strategies and inexpensive storage when tackling linen closet organization.
Think Outside the Closet
Organizing Photos for Closet Storage
Do you have stacks of photos crammed in a closet? Is your camera overloaded with images you've yet to print?
If so, then follow this five-step plan from Candita to help you organize your photos and preserve your memories:
Start with the present:

Starting a system with your current photos will help to keep you on track as new ones come in. Tackling too much at once (say, the last 10 years) will most likely overwhelm you and sabotage your efforts.


Label:

Place traditional photos in envelopes labeled with the month, year and event. If time permits, little notes on the back of each can help to tell a story you might otherwise forget down the line. Label photo CDs or create separate files on your computer. Photo websites also allow you to give each photo a title and a description.


Store:

The simplest method for storing traditional photos is putting them into photo boxes. They can be stored by year or by the event. Store them in a safe dry place to ensure their longevity. Any room with moisture, humidity or extreme temperature changes will likely ruin photos over time. For digital photos, photographer

Derek Trimble

suggests storing on an external drive synced to a second external drive as a backup or using a cloud-based backup service. And don't discount the value of simply printing your favorite digital images and placing them in a good old-fashioned album for safekeeping and easy access.


Share:

Now that you know where to find your pictures, choose some favorites, and use mini albums with sleeves or paper corners to show off a special event or trip. Email digital photos to family and friends. This is a great way to keep grandparents, relatives and friends in the loop.


Revisit:

Once you have a system in place for dealing with your new photos, you are ready to go back in time and begin the process for years past. Remember: It's much easier to deal with a season at a time rather than the entire year.
Shop Top-Rated Photo Storage
Organize Art Supplies in Your Closet
Whether it's your scrapbooking supplies or the kids' paper and markers, art supplies tend to clutter up a closet faster than you can complete a project. Whether you have a walk-in closet with room for seating or a closet with just a few shelves, you can still create order out of art-supply chaos. Professional organizer Charlotte Steill shares her top five storage solutions:
Rolling carts:

These can be tucked under a shelf or work surface for easy accessibility and are ideal for storing items you don't use every day.


Magnetic spice racks:

These small, round containers come with clear lids so it's easy to see what's inside.


Magnetic baskets:

Small paint bottles, paintbrushes, crayons, markers and colored pencils are easily identifiable and moved about if you have an easel or separate area for drawing and painting.


Small compartment boxes:

The compartments are great for keeping up with buttons, beads, shells and rubber stamps.


Expanding files:

The individual files allow you to easily sort scrapbooking and decoupage supplies into categories, either by person, holiday or event.
Shop Top-Rated Craft Storage
Create a Closet Home Office
If you're lacking home office space, employ a spare closet (with an electrical outlet nearby) to store your computer, important papers and office necessities. Here's how:
Brighten the interior of the closet by painting it a fun color.


Add a shelf at chair height for the desktop and one or two shelves up high to store office supplies you don't use on an everyday basis. Cover the desktop with fabric to smooth the rough edges.


Create a message board by attaching cork to the inside of the closet door.


Use translucent wall pockets to corral incoming mail. Be sure to assign action verbs to each pocket, like To Read, To Do and Trash.


Keep the desktop free of clutter by installing magnetic containers to hold office supplies.


Place a rolling file cabinet under the desktop to store important papers. Use a color-coded filing system to distinguish between types of papers like bills, bank statements and work-related documents.


Store magazines on an upper shelf in magazine files. If you're sharing the office space with other family members, designate a basket for each person to hold their own personal supplies.
Shop Top-Rated Office Organizers
MORE TOP TIPS
These clever small home office ideas prove you don't have to give up your workspace just because you live in a small space.
Ways to Make It Work