How to Design a Bold Home Bar Inspired by 'Windy City Rehab'
Skip the trip downtown this weekend and build this bold in-home bar inspired by Windy City Rehab instead.
Build a DIY Home Bar With Bold Paint
To create a DIY home bar, all you need is some old furniture and a can or two of paint. This home bar uses two base cabinets that have been accessorized with trim and brass accents, a shelf with brass shelf brackets, and bold paint from HGTV Home by Sherwin Williams.
After a long day, nothing is more relaxing than sipping your favorite cocktail in a bar with that quintessential speakeasy atmosphere. No, we're not talking about a new downtown spot. We're talking about your very own in-home bar inspired by HGTV's Windy City Rehab! Are you ready to unlock your inner mixologist? All it takes is some paint, a little imagination and one or two furniture pieces with loads of potential, such as an old dresser or sideboard. After just one weekend, you'll be serving up drinks like a pro.
(2) paint + primer in complementary colors
pencil
measuring tape
level
round plate
paint supplies
paint roller + roller head
paintbrush
painter's tape
brad nailer + 1" brad nails
wood glue
brass furniture legs
brass cabinet pulls
brass shelf brackets
wooden shelf
miter saw
half dowels
Step 1: Choose Your Colors
We recommend two coordinating colors for this DIY bar. Use photo inspiration, paint chips and paint samples to decide on a bold color combo that you'll love in your space. We went with Austere Gray and Pewter Green from HGTV Home by Sherwin Williams.
Use a pencil to draw your design on the wall. We recommend establishing the width using your furniture piece of choice (Image 1). Use a level for straight lines, then create curves by tracing a plate (Images 2 & 3). We chose a stacked arch design to really showcase our two colors. Once drawn, tape the lines using painter's tape (Image 4).
Pro Tip: If you don't have old furniture to makeover, buy two unfinished base cabinets from the hardware store and place them side by side.
Step 3: Apply the Lighter Paint Color
Starting with your lighter color, paint the outside area. Use a paintbrush to paint the outline, then fill in using a narrow roller (Images 1 & 2). Once thoroughly coated, remove the painter's tape.
Step 4: Re-Tape the Inner Line
Once dry, tape the inner arch once more, placing the tape on the outside of the arch.
Step 5: Apply the Darker Color
Paint the inner arch with the darker color (Images 1 & 2). Once thoroughly coated, remove the painter's tape (Image 3). We opted for a paint and primer combo for easy one-coat coverage.
Step 6: Prep and Paint Furniture
Prep and paint your furniture piece to match the wall.
Step 7: Add Brass Hardware and Accessories
Add any desired details that give your furniture the look you're after. To give it height, add legs (Image 1). We glued and nailed half dowels across the front for extra visual detail, then added brass hardware to enhance the look (Images 2 & 3).
To elevate your elixirs, add a shelf up top by painting a piece of wood in the same color as the wall it will hang on and mounting it with brass shelf brackets.
Cheers! Your in-home bar is open for business. All that's left is to fill it with all of your favorite drinks and mixers, as well as a few styled pieces to complete the vignette.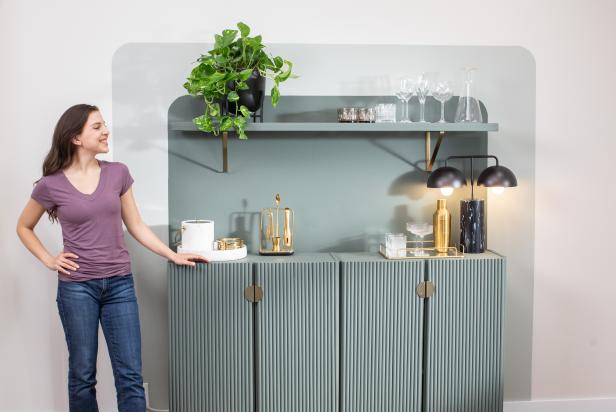 DIY Bold Bar: Makeover a Home Bar With Bold Paint
To makeover your home bar in to something truly wow-worthy, all you need is some paint and some furniture fit for upcycling. If you don't have any old furniture that will work, head to the hardware store and buy a couple of unfinished cabinets. Then, paint the cabinets and add brass hardware.