Dress Up Your Walls With These 8 String Art Projects
Custom wall decor without the hefty price tag? Yes, please.
It reached peak popularity in the '70s, but string art has made a big comeback in the last few years. While you can buy already-made string art or string art kits from many craft stores, you can also create your own custom wall decor from scratch — and it won't cost you much, either. Grab a hammer, some nails and a whole lot of string, and try one of these budget-friendly DIYs.
We've got starburst templates for every letter to simplify this project. Download it and get started!
Start with any animal silouhette and convert it into cool, geometric artwork with this technique. No nails required — just use a needle to poke holes in a stretched canvas.
Looking for a more advanced DIY project? Use plywood, paint and roofing nails to make this large-scale piece of art.
For a twist on the silhouette concept, draw a shape on a sheet of painted plywood, then fill in the space around it with string.
You can use just about any map as a stencil for this stylish project. Try it with your favorite state or country, too.
This bright, colorful diamond would make a perfect photo booth backdrop.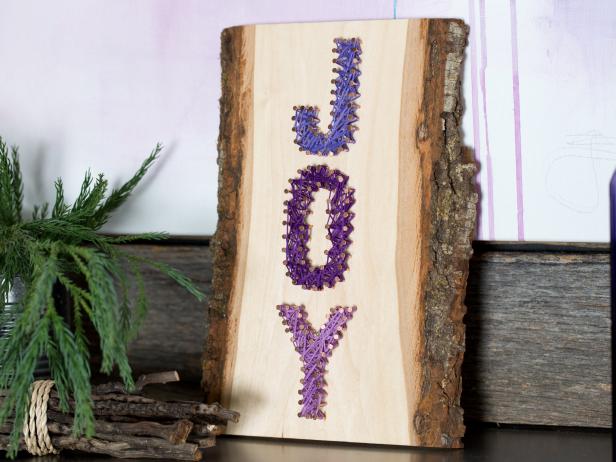 Holiday String Art Signage
Add graphic impact to your home this holiday season with a welcoming sign made from string, nails and wood.
Bring some holiday cheer to your home with a festive word or phrase. Use a precut wood plaque for a rustic touch.