5 Simple Ways to Stay Cool Without Air Conditioning
The first day of summer is only days away, but the hot, humid weather is already here for many. While the gentle hum of an air conditioner is as synonymous with the season as water splashing at a pool, there are plenty of other ways to keep cool (and save money) without turning down the thermostat. Here are a few that we think you should try: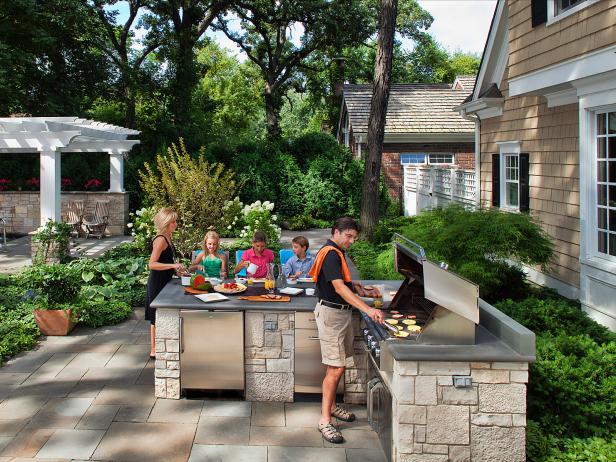 Outdoor Family-Friendly Patio for Entertaining
This family grills on their outside patio on a grill with a bar attached so the whole family can enjoy a meal outside. The patio is adorned with simple landscaping.
There's a reason why summer is grilling season. If you're feeling overheated, cooking dinner in a 350-degree oven is only going to make matters worse. Instead, head outside and fire up the grill. You'll get to enjoy your stylish patio while the inside of your home remains cool. Win-win.
2: Choose Your Sheets Wisely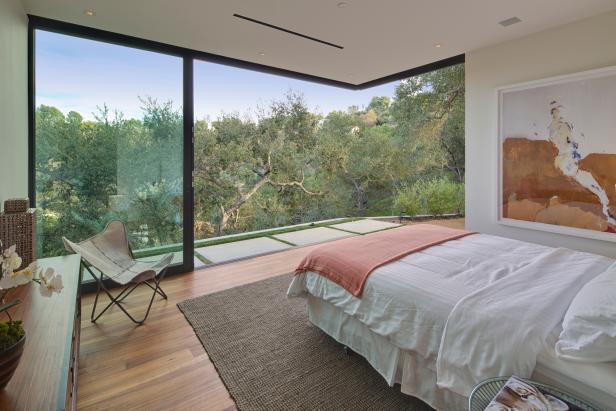 Neutral Bedroom With Stunning View
A breathtaking view of Beverly Hills is the star in this simple but tasteful bedroom. Neutral art and white bed linens allow the gorgeous view to shine in this nature-inspired space.
Hilton & Hyland, a member of Luxury Portfolio International
Maybe it's just me, but there's nothing worse than trying to fall asleep in a hot bedroom. Having a fan nearby helps, but your sheets can contribute to keeping you comfortable, too. Choose sheets made out of breathable, natural materials, such as cotton or cotton blends, as they wick away moisture without clinging to your body.
Pro Tip: Place your top sheet and pillowcases in a bag and let them sit in your refrigerator before going to bed. They won't stay cold all night, but the relief from the heat might be just what you need to fall asleep.
3: Window Treatments Make All the Difference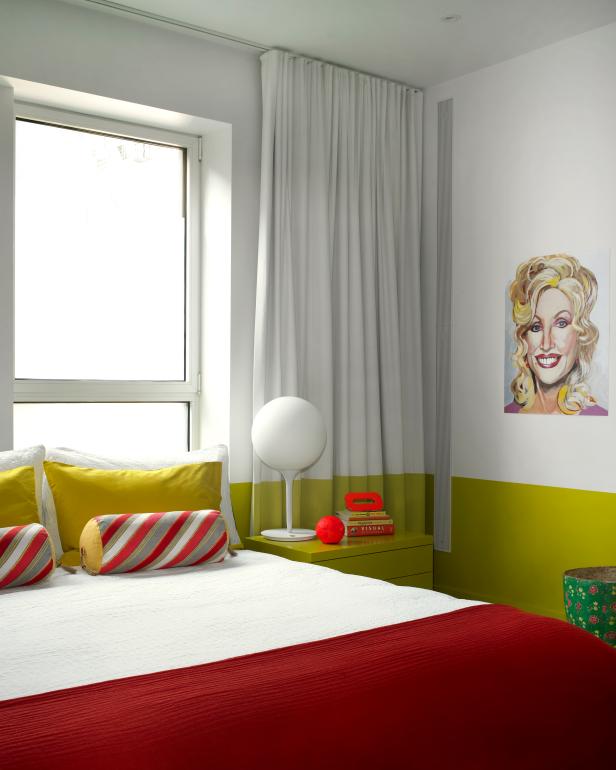 Color-Blocked Drapes in Modern Bedroom
In the master bedroom, color-blocked drapes have a strong personality that's softened by playful art. The color combination carries over from the window treatment to the walls, lending incredible structure and visual interest to the design.
Ghislaine Viñas Interior Design
During the day, when the temperature outside your home is hotter than inside, the best way to keep it that way is to close your windows, blinds and curtains. According to the U.S. Department of Energy, highly-reflective blinds can reduce heat by 45 percent, and curtains with a medium- to white-colored backing can reduce heat by 33 percent. You may feel a little bit like a vampire with the lack of sunlight, but it can really help save on your energy bill.
Pro Tip: In addition to blocking sunlight, try setting your ceiling fan so that the blades are spinning in a counterclockwise direction. This will help draw the heat in the room up and away from you.
This tip couldn't be any easier, and it might be the most effective. All you need is a fan and a container full of ice. Turn your fan to the desired speed and place the ice in front. Voila! You've created a DIY air conditioner.
5: Skip the Cocktails + Drink Water
Sipping a cocktail or iced coffee may sound like a great idea when the temperature rises, but you may actually be doing more harm than good. Both alcohol and caffeine are known to cause dehydration, which is the last thing you want in the middle of summer. Instead, drink the recommended eight glasses of water a day.