Refresh Your Home With These 5 Colorful Painting Crafts
Get clever ways to make the most of leftover paint.
A refreshing wall hue (like a blue or green) can make your home feel brand new, but it doesn't take gallons of paint to spruce up the place. If you have a half-empty can or paint samples, you can still make colorful crafts designed to elevate the mood in just about every room. Check out these clever ways to make the most of your last painting project's leftovers.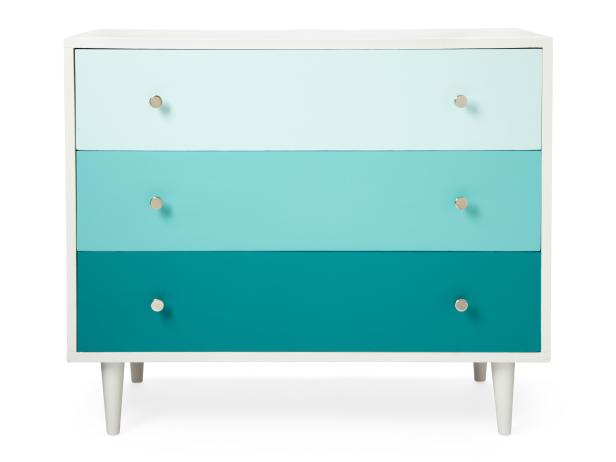 Dress Up Dresser Drawers
No need to buy multiple paints—you need just one color and white. First pull out the drawers and unscrew the knobs. Use undiluted color to paint the front of one drawer. For the other drawers, mix the color into white until you get the shades you want. Try 3 ounces of color with 8 ounces of white for a medium shade; use 1 ounce of color with 8 ounces of white for the lightest shade. Let dry, then reattach hardware and replace drawers.
If you only have a small stash of paint, or leftover sample paint, this idea from HGTV Magazine is for you. Just take the color you have (like this cool blue) and mix it with a bit of white paint for an eye-catching ombre effect on an old dresser.
Beautify a Basic Bookcase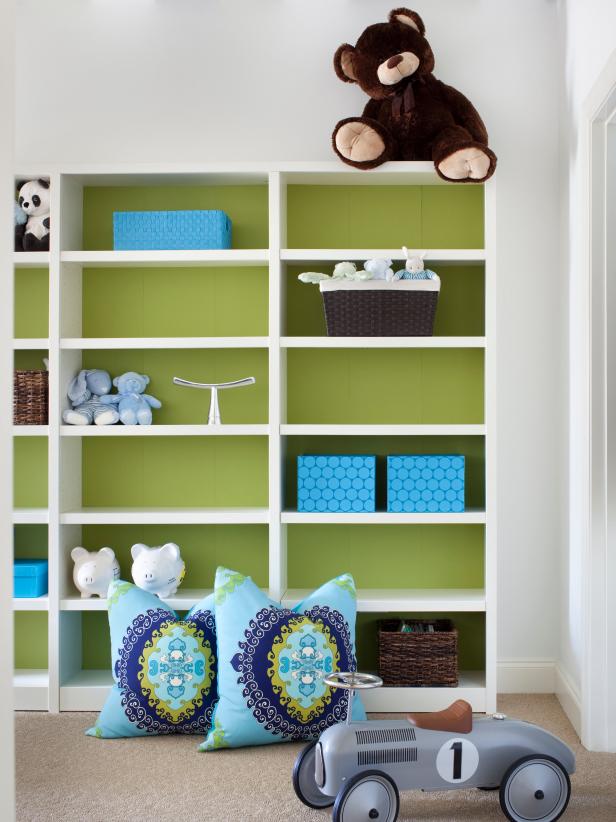 Contemporary Kid's Bedroom With Green and White Bookshelf
A lime green shelf pops in this white, contemporary kid's bedroom.
Jazz up a plain bookcase by adding a bright hue to peek out from behind your books and accessories. The apple green palette in this example from Brian Patrick Flynn is so crisp!
Brighten Up Your Headboard or End Tables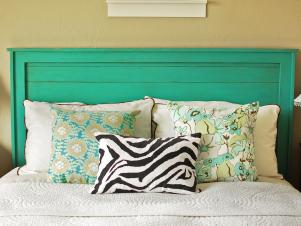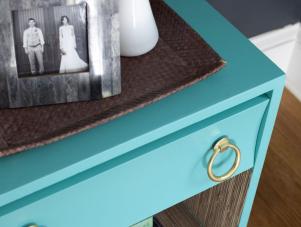 Turquoise End Table
Kristen scored a pair of mid-century modern end tables from a garage sale for $10, sanded them down, and painted them a high-gloss shade from Sherwin-Williams called Aquarium. The hardware was taken from another piece and spray-painted gold. "Gold is my favorite accent color for turquoise; it looks really rich and glamorous," the painter says. For a hint of texture, Kristen covered the open bottom portion that's just below the drawer with grasscloth wallpaper.
If you're dealing with a quart of paint, not a gallon, you probably have enough color to tackle a headboard or some end tables. A pop of teal or turquoise is like a breath of fresh air for your bedroom or living room.
Turn an Empty Can Into a Planter
If you have an almost empty can of paint, apply the last itty bit to the outside of the can itself and once it's empty, grow some herbs inside! Now, isn't that refreshing?