6 Tips That Will Get Your House Fall-Ready
Get your digs just as ready for fall as you are.
We still have quite a few weeks left of warm weather, but those chilly months are right around the corner. I mean, it's already mid-August! While the temperatures are still in the upper 80s, you can start prepping your house for the cooler season. We've got six tips that will give your house some TLC before the crisp, fall months are here.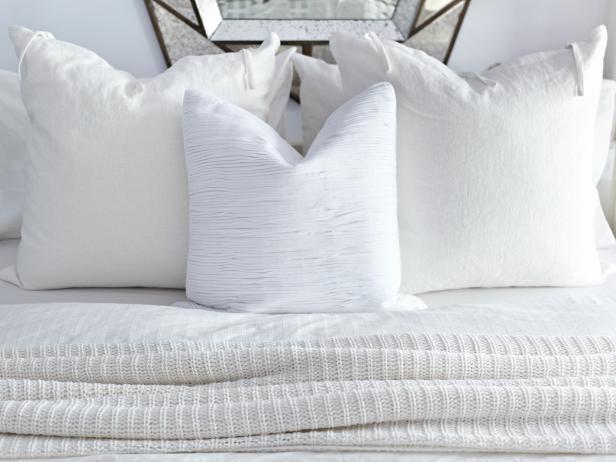 BPF_original_make_all_white_room_work_textured-fabric_h
Varying textures is the key not only to using white effectively, but also to packing a white-on-white room with a strong textural story. When a room's major focus is color, for instance in a bold red and blue room, the contrast becomes the Aha! moment of the design. Since white-on-white spaces are void of strong color, the best way to add visual interest is to ensure the space is packed with a plethora of textures. The bed-scape of this guest bedroom combines whites in many different ways; the bed pillows are ultra-white cotton, the Euro shams are made of a casual, washed beige-white linen, the accent pillow features rouged silk, the ultra-white duvet has a faint waffle pattern, and the woven throw blanket is made from yellow-white cotton.
It's time to take out those down comforters, cotton sheets, knits and shake the dust off. Give them a good wash and store them in a convenient closet, so when the icy nights come, you'll have your blankets ready to go. There's nothing worse than roaming around at midnight, half asleep looking for your warmest blanket.
Tend to the Fireplace + Chimney
Ah, the fireplace. The cornerstone of family hangouts during the chilly months. For my family, there was never a fall or winter month when we weren't around the fire at least once a day. Now is the ideal time to schedule a chimney cleaning to avoid chimney fires. Give them the love they deserve, because they'll be working around the clock come fall!
Speaking of fireplaces, now is a great time to start your firewood pile. When the winter months roll around you'll be glad you did. Make a firewood rack outside and a carrier to transport the wood inside. Look at all that DIY-ing.
Check the Furnace + Boiler
Whether you have a furnace or a boiler, it's good to make sure everything will run smoothly this fall when the temperatures drop. Get it inspected and make sure to change the filters on a furnace regularly throughout the fall and winter. This will help keep energy costs down and wallets happy.
Plant Fall Bulbs for Spring Flowers
There are a variety of flowers to plant in the fall that will bloom in the spring, so get some fall gardening done before the ground freezes. Consider planting these bulbs during fall for spring flowers: tulip, iris, daffodil, hyacinth and lily.
Now is a great time to rummage through your garage or shed and get all your fall and winter tools in one, easy accessible location. Nothing is worse than trekking through the snow in search for a snow shovel.
For fall: leaf blower, broom, rake, gardening tools (bulb planting!)
For winter: ice scraper, ice salts, snow shovel, snow blower
Once you've rounded up all the essentials, clear out a space in the garage or shed and store them. You'll be thankful you did when the next snowstorm hits!
Easy Exterior Updates You Can Tackle in One Day or Less
See All Photos