Be a Savvy Flea-Market Shopper With These 8 Tips
Rule the flea market, granny cart in tow, with these essentials tips.
I'm flea market obsessed. In fact, I'm so obsessed that I have the layouts and section areas of every major flea market in Los Angeles memorized — and not just because I've studied maps. (I've gone to all of these flea markets so many times that they're now etched into my brain.)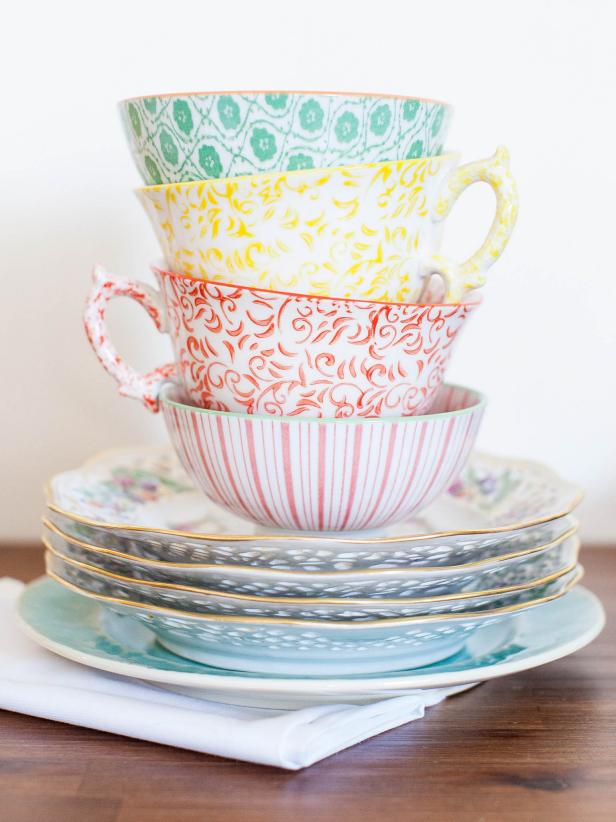 DIY Mother's Day Lunch
Pull out antique china, tea cups and glassware passed down from previous generations. Get creative by mixing and matching different patterns and settings. The more eclectic and colorful, the better.
Cheyenne Mojica Photography
I have some pretty strong opinions about all the things you need to do in order to be a flea market ninja like I fancy myself. And while it does take a bit of preparation, I think if you follow these tips and tricks, you'll soon be getting high-fives from the flea vendors when you walk by with your overstuffed granny cart. Take it from moi.
This is usually the #1 flea market tip you'll run across and it's for a good reason: cash is king. While many vendors do now accept credit cards thanks to tools like Square and Paypal, you still have the best negotiating power when you're paying with cash. Plus, using cash helps keep you on a budget.
If you know you're looking for larger pieces of furniture or art (and don't want to carry too much cash), you might want to bring a check with you.
For me, coming prepared just means trying to do your best to think things through. For example, is your SUV filled up with junk/empty fast food bags? Then you're not going to be able to fit any of your new purchases in there.
If you're looking to get a larger piece, how do you plan to get that home? Do you have room in your car? Do you have rope you can use to tie something up on your roof? Do you have a friend with a van you can call? Oftentimes, vendors will have movers that they can recommend, but I always like to come prepared with some of my own contacts.
I'd also recommend that you measure any space you might be buying for before you hit the flea, and keep those measurements on your phone so they're easily accessible.
Flea market supplies will vary a bit for everyone depending on where you are in the country (and how much you plan to buy), but I have a list of things that I like to bring with me each and every week.
granny cart (it's so much better than toting things around on my back or shoulders)
sunscreen
hat
hand sanitizer
comfy shoes
tote bags (for your purchases)
water
snacks
fully charged phone
any needed color, paint or fabric swatches
This is advice that is easier for some of us than others, but the truth is: the earlier you get to the flea, the better the finds.
Flea markets start fairly early here in Los Angeles, so I'm typically there with my game face on by 7 a.m. at the latest. Even if you can't get to your flea market quite so early, at least have a goal of getting there on the early side, whatever that means for you.
If you're already a collector of bird figurines, then you know what you like, how much they cost and what you'd like to add to your collection. But if you're going to the flea market to look for something you're less familiar with, try to do some research ahead of time.
Even if you're unsure exactly what you might like to buy but you know that you really love carnival glass, for example, you can still look around online to learn more about it and look for some inspiration.
A helpful trick to have up your sleeve is to have the eBay app already downloaded and ready to go on your phone. If you have the app on your phone, you can easily check prices on things you might come across. I tend to use this mostly for higher-priced items, but if you want to be vigilant, you can check on anything that you're interested in before purchasing.
As a self-proclaimed professional flea-market shopper, I prefer to go to the flea solo so I can cover ground a lot quicker. However, before I reached my ninja status, I much preferred to hit the flea with a friend.
Think about bringing a buddy, especially if you're a new shopper. It always helps to have a second opinion when you're trying to decide whether or not to buy a giant elephant garden stool. (For the record, you should ALWAYS buy a giant elephant garden stool!)
As vintage decor and furniture has grown in popularity over the past few years, the demand for these items tends to be off the charts. However, there is still always room for negotiating. But you need to be reasonable when attempting to get a good deal.
If something is priced at $50, it's not wise to offer $15 for it. This, of course, is not a hard and fast rule, but I tend to go for a 10% reduction. A phrase I like to use is: "What is your best price for this?" If their best price is still a bit too high for you, thank the vendor and be on your way. If there's any more flexibility in the price, chances are they won't let you leave before trying to negotiate a bit more.