5 Pie-Inspired Cocktails Perfect for Thanksgiving
Have your pie and drink it, too.
Arguably one of the best parts of Thanksgiving is getting to pile your dessert plate full of delicious pies at the end of the day. But sometimes, even after eating slice after slice, you're left craving even more pie. (At least, I hope I'm not the only one.)
That's where these drinks come in. They're inspired by pies, meaning you can keep the good dessert vibes going well into cocktail hour. So this Thanksgiving, if you're hoping to really maximize your pie enjoyment, just whip up one of these five cocktails.
1: Warm Apple Pie Cocktail
A slice of warm apple pie is hard to beat, but this cocktail is certainly a close second.
This cocktail is basically dessert in a glass, and what could be better than that?
3: Appleberry Pie Cocktail
In this cocktail, apple juice and a medley of fresh berries make for a delectable drink.
4: Hot Cherry Pie Cocktail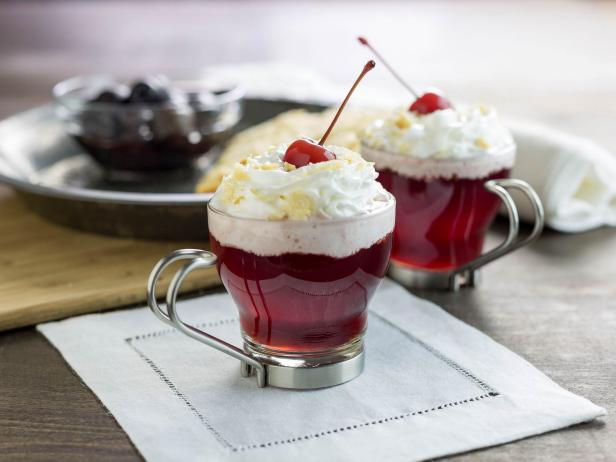 Flavorful Cherry, Vanilla and Amaretto Cocktail
To create this scrumptious treat, heat the cherry juice in a small saucepan over medium heat or in the microwave. Then, pour the heated cherry juice into a small cup, and add the liquors. Stir gently to combine. Finally, top with whipped cream, pie crust crumble, and a maraschino cherry. Tip: to make the pie crust crumble, roll pie dough into a thin sheet (about 1/8" thick). Place the rolled dough on a baking sheet lined with parchment paper or a silicone mat. Bake at 425˚F for 8-10 minutes or until lightly browned. Cool completely on the baking sheet, and then break into small pieces
This toasty concoction feels even more pie-like thanks to the inclusion of a pie crust garnish.
5: Apple Ginger Pie Cocktail
Ginger and Cachaca, a Brazilian liquor, add an unexpected twist to this pie-inspired drink.
1 part Cachaca (we used Cachaça 51)
1 part ginger liqueur
6 parts apple cider
2 tablespoons sugar
ginger, grated
sliced apples or apple chips, for garnish
Combine all ingredients and serve over ice.