If feel-good music sounds good for your next gathering, we have your playlist.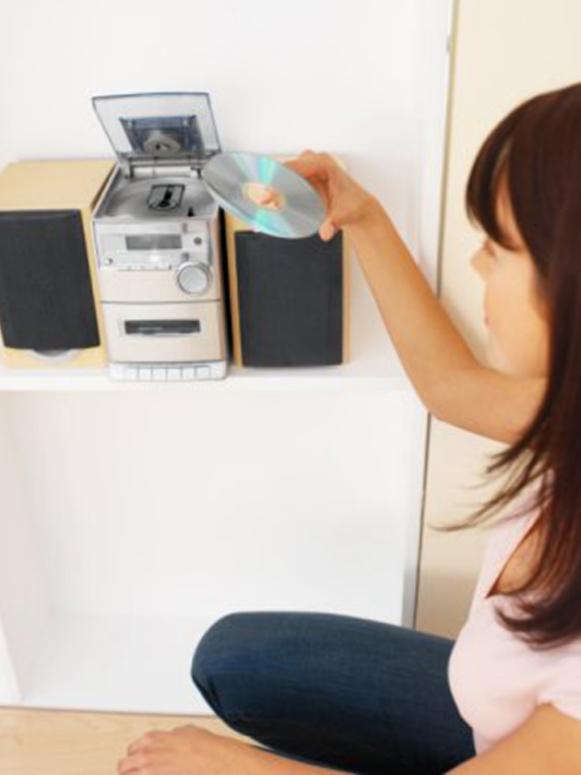 CD Stereo System
Set the mood with a homemade CD or computer playlist of holiday songs. It's easy to make and you'll get to hear your favorite mix of seasonal tunes. Remember to keep the music low — conversation is what counts at any celebration, writes caterer extraordinaire Sheila Lukins in her party-themed cookbook Celebrate. Try to avoid musical selections with lyrics during the dinner hour, which causes competition between the lyrics and the scintillating dinner conversation that could go unheard.
When entertaining, don't discount the power of music to help your guests unwind and feel comfortable. Just carefully consider your audience and what type of party you're hosting.
A great go-to music for most any occasion is jazz. It's the most versatile with varying styles, genres and sounds, and you don't have to worry about lyrics offending your guests or inhibiting conversation. Check out this 20-song playlist which lasts about an hour and a half. It offers a wide variety of musical pleasure and laid-back party vibes sure to keep the party going.
1. "Look at That Old Grizzly Bear" - Mark Mothersbaugh
Favorite movie soundtracks are a great source for instrumentals. This whimsical tune is the first song on The Royal Tenenbaums Original Soundtrack.
2. "The Whiffenpoof Song" - Cal Tjader
This Latin jazz artist creates a light lounge feel with vibraphones and groovy percussion.
3. "Take Five" - The Dave Brubeck Quartet
Brubeck is considered one of the most innovative jazz musicians for his unusual time signatures. This classic is in 5/4 time, from the platinum album Time Out.
4. "Prophet Jennings" - Freddie Hubbard
This track features Hubbard's genius as trumpet player and composer of a quintet which features the flute alongside the trumpet, with Herbie Hancock on piano.
5. "Sportin' Life" - James Brown
Enjoy a laid-back, funky cut from the soundtrack to the movie Black Caesar.
6. "Groove Holmes" - Beastie Boys
Jazz can come from hip-hop, as this New York trio has shown repeatedly. The Beastie Boys named this song after the legendary Hammond B-3 organist.
7. "Ease Back" - Grant Green
This guitarist plays a variety of styles and has covered several songs from popular artists like James Brown and the Beatles. This one is from New Orleans funk band The Meters.
8. "Hand Clapping Song" - The Meters
These jam artists from the bayou are right on point with this feel-good song, which is the only one on the playlist with vocals.
9. "Hot Pants Road" - The J.B.'s
James Brown's band gets down with funky beats from the organ and guitar.
10. "Love Is the Message" - MFSB
The Philly-based disco-soul group who wrote the theme song for Soul Train keeps the party on the tracks with plenty of disco groove.
11. "Gospel Groove" - Shuggie Otis
What you get from Shuggie — who turned down an opportunity to be a part of the Rolling Stones — is funky, bluesy guitar, from the album Here Comes Shuggie Otis.
12. "She Loves You" - Chet Atkins
There's always room to think outside the box a little and incorporate musicians from other genres. This cut is from the album Chet Atkins Picks on the Beatles.
13. "A Day in the Life" - Grant Green
A little more Beatles can't be bad. This comes from the album Green Is Beautiful.
14. "All My Loving" - Count Basie
This jazz legend, who performed for almost 50 years, gives a swinging rendition of Basie's Beatle Bag.
15. "Tiger Rag" - Preservation Hall Jazz Band
Feel like dancing? Here's a tribute to some down-home Dixieland music, from the album New Orleans, Vol. 1.
16. "Royal Garden Blues" - Charlie Christian
Christian is an early, influential jazz guitarist from the swing era who was prominent in the Benny Goodman Orchestra. He picks, along with several other big band instruments in this song, taken from The Genius of the Electric Guitar.
17. "Isn't She Lovely" - Jimmy Ponder
From the album Alone, Ponder pays tribute to Stevie Wonder with a mellow and bluesy rendition.
18. "Someday My Prince Will Come" - Miles Davis
For those not familiar with Miles Davis, this song is a good place to start. It's a classic jazz standard from a classic jazz album, sharing the same name with the song.
19. "Theme for Ernie" - Donald Brown
A jazz legend in his own right, this pianist once toured with Art Blakey's Jazz Messengers and taught at prestigious Berklee College of Music. He continues to perform all over the world and now teaches aspiring musicians at the University of Tennessee.

20. "Cantaloupe Island" - Herbie Hancock
This familiar song wraps up the playlist, which was later made more popular by the London jazz-rap group Us3, from the album The Definitive Herbie Hancock.

Have fun playing the role of DJ and incorporating some of yourself into your next party's playlist. Sample songs and artists online, and create a sound that is just right for you and your guests.

Justin Judson is a freelance writer and photographer who cherishes his vinyl.