Big-Batch Cocktail: Boozy Berry Patch Lemonade
Hosting a crowd? Combine summer's favorite fruits — blackberries and strawberries — with whiskey and tart lemonade for a not-too-sweet sip that tastes like summer in a glass. Serve this big-batch cocktail in a punch bowl, pitcher or large beverage dispenser so guests can help themselves and you can actually enjoy the party!
1 lb blackberries (for cocktail and garnish)
1 lb strawberries (for cocktail and garnish)
1 lemon
4 cups whiskey or bourbon (this breaks down to 2 oz/guest or a bit more than a standard shot glass)
1 cup raspberry liqueur
1-1/4 cup sugar
16 oz pomegranate juice
1/2 gallon tart lemonade (homemade or store-bought)
2 small, shallow dishes
gallon-size freezer bag
muddler or wooden spoon
cocktail picks
sharp paring knife
Make Berries Boozy (1-3 Days Before Party)
Rinse blackberries and strawberries and place on a paper towel to allow most of the water to drain off. Refrigerate 2 dozen or so of the best blackberries and strawberries to use later to garnish the glasses. Remove caps from strawberries and cut the remaining berries into smaller pieces to assist in the maceration process. Tip: The technique of soaking fruits in a liquid to create a fruit-infused syrup is called 'macerating' – macerated fruit is not only delicious in cocktails, it's also a flavorful topping for ice cream. Place cut blackberries and strawberries in a gallon-size freezer bag (Image 1) and add 1 cup of sugar and 4 cups of whiskey (Images 2 and 3). Seal the bag and place in the fridge overnight (or longer) to allow the berries to soak up the alcohol and create a sweet berry-infused syrup in the process.
Empty macerated contents of the freezer bag into a punch bowl or other container that's large enough to serve a crowd (Image 1). Use a muddler or the flat side of a wooden spoon to smash the berries (Image 2) to release more juice (and booze!). Finally, add 16 ounces pomegranate juice, 1 cup raspberry liqueur and 1/2 gallon of your favorite tart lemonade (Images 3 and 4). Stir to blend the flavors.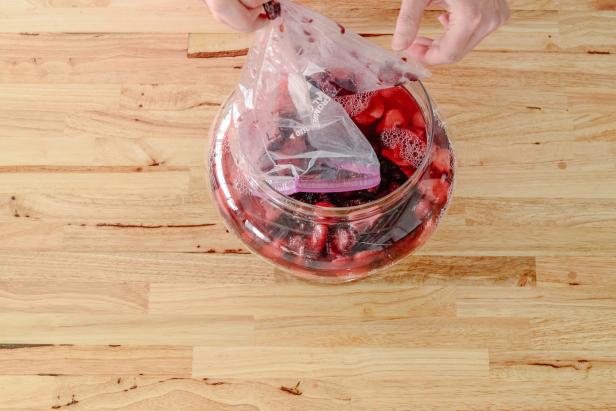 Jason Kisner, Copyright Scripps Networks, 2016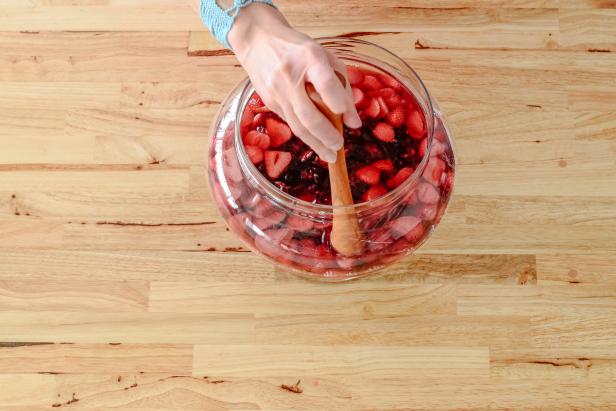 Jason Kisner, Copyright Scripps Networks, 2016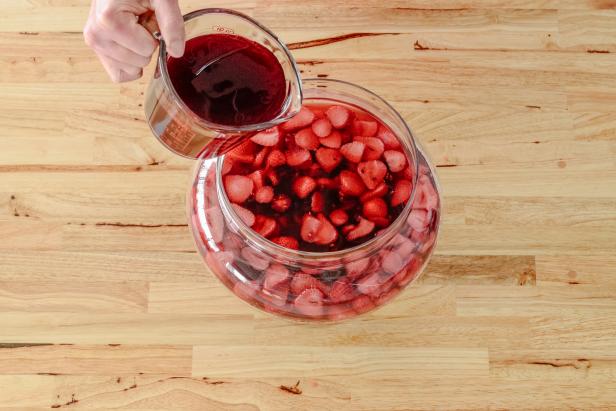 Jason Kisner, Copyright Scripps Networks, 2016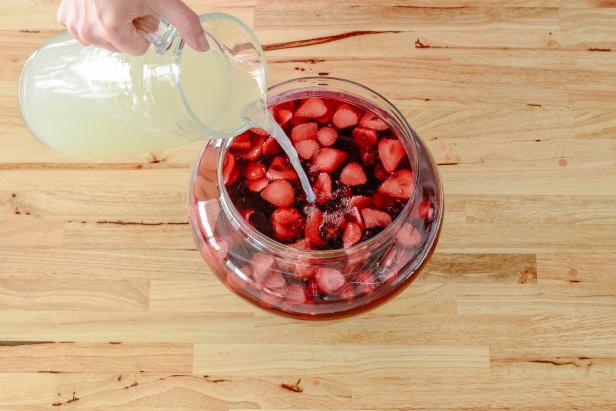 Jason Kisner, Copyright Scripps Networks, 2016
Create Sugared Fruit Garnishes
Fill a small, shallow dish with lemon juice and a second dish with 1/4 cup sugar. Cut strawberries in half length-wise and cut lemon into thin slices. One at a time, dip blackberries and the cut side of strawberries in lemon juice, then roll in sugar until coated and set aside onto a clean paper towel (Image 1). Tip: Sugar the berries right before guests arrive so they're fresh. Create garnish by sliding sugared berries and a lemon slice, folded in half, onto a cocktail pick (Image 2).
Fill each glass with ice cubes and top with mixed cocktail. Place premade sugared fruit garnishes in a small dish so guests can help themselves to a sweet finishing touch.
Jason Kisner; Styling by H. Camille Smith, Copyright Scripps Networks, 2016