5 Easy-to-Tackle Artificial Turf Tailgating Projects
Score a touchdown before kickoff with this game-day-approved tailgating decor.
We're sorry, there seems to be an issue playing this video. Please refresh the page or try again in a moment. If you continue to have issues, please contact us here.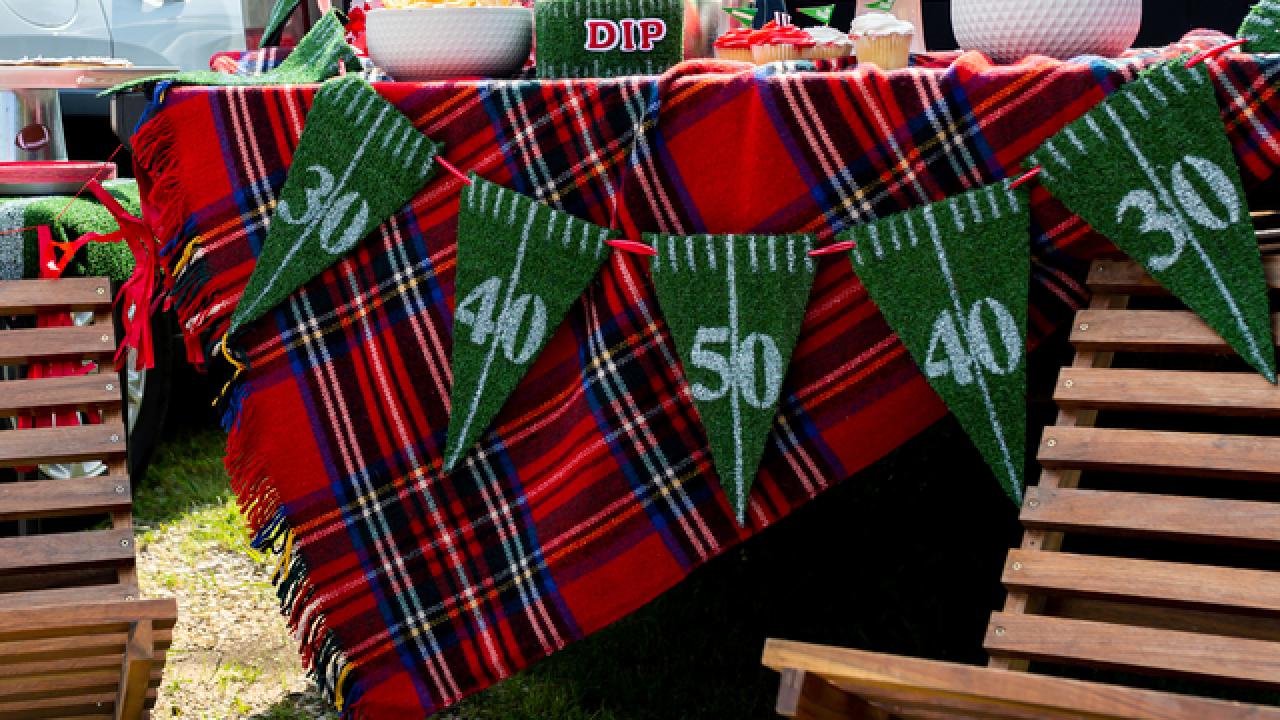 Football season is upon us. More importantly, tailgating season is upon us. Sure, the crisp fall air filled with the heavenly smell of 1,000 BBQs and the excitement of what is essentially a massive, all-day block party is a rush already, but we think we've got what it takes to up your tailgating experience to the next level.
To create the tic-tac-toe board, start by laying out a 3-foot by 3-foot piece of artificial turf. With a measuring tape and a paint pen, make marks at 11, 12, 23 and 24 inches. Using a yard stick as your guide, vertically tape downward from each mark, positioning your tape on the outside edge of each mark. Paint white stripes between the tape with acrylic craft paint and a narrow roller. Once painted, pull the tape, rotate the turf and repeat each step on the next side, creating the tic-tac-toe grid pattern.
Double-down on the football theme by customizing ordinary bean bags with yard-line-inspired artwork. To do this, use a stencil with a font similar to a football field's yard line font and paint your tic-tac-toe X's and O's with the white acrylic paint. Allow to dry, and then it's time to play!
Running-Back Table Runner
Begin by measuring the length and width of your table. Use scissors to cut a piece of artificial turf 6 inches longer and wider than your table's measurements. On each long side, use a paint pen to mark every 5 inches. Run painter's tape across the width of the turf, placing two pieces in each 5-inch section and leaving a gap in between them. Once the painter's tape is in place, use white acrylic paint and a narrow roller to paint the narrow gaps between the tape. Once the paint has dried, pull the tape and your table runner is game-day ready.
Using a measuring tape and paint pen, mark an approximately 15-inch-long piece of artificial turf widthwise at 4 inches and 8 inches. Use a straightedge to trace a line downward from the 4-inch mark. Form a triangle pennant shape by tracing angled lines from the zero point and the 8-inch mark to the bottom of the initial traced line. Use yard-line inspired stencils to trace a "1" on one side of the center line and a "0" on the other to create the look of a 10-yard line. Finish the look off by making five smaller marks across the top on each side of the center line.
Once the paint pen has dried, use a pick to punch holes in each top corner and string your ribbon through. Repeat until your desired number of pennants are completed, increasing the yard line number by 10 on each pennant.
On a scrap piece of artificial turf, use a ruler and paint pen to mark 10 inches across and 4 inches down. Use the ruler to trace a line from each point until the two lines meet. Use scissors to cut the turf along the lines. Stick hook-and-loop tape on the artificial turf, placing one side on the turf side and one on the back so turf creates a cylinder when joined. To finish off the sleeve and keep with the theme, place a stick-on football in the center of the turf side. All that's left is to wrap your finished project around your favorite beverage and enjoy!
Bowl-Game Dip Bowl Sleeve
Measure your desired dip container's height and circumference. Use a ruler, paint pen and scissors to measure, mark and cut a piece of artificial turf to the container's dimensions, adding an inch or two to the circumference for overlap. On each side of the turf, use the paint pen to make yard line marks, marking every fifth mark longer. Complete the sleeve by sticking on the design of your choice.
We chose to spell out the word "DIP" in bold, red letters. Join the two ends together with hot glue and hold tightly until it cools. Show your work off by sliding in your favorite dip at every game this season!