Kitchen Islands With Seating
Kitchen islands can be social, smart and fun thanks to an endless array of seating options ranging from comfortable to practical.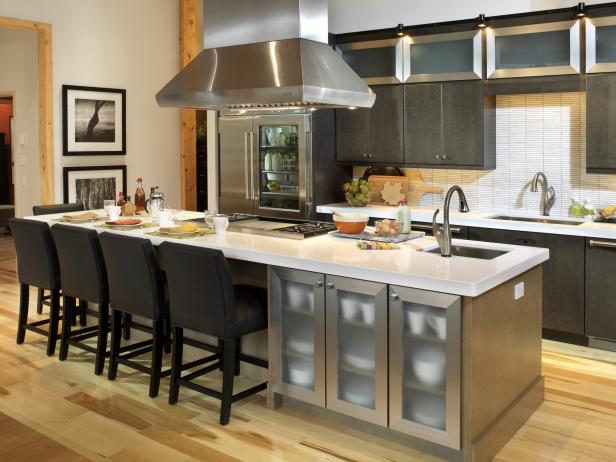 2011 HGTV Dream Home Kitchen With Center Island
The 2011 HGTV Dream Home's kitchen perfectly combines maple floors with charcoal-finished cabinets, quartz countertops, and high end appliances to create a sleek, modern chef's kitchen. A breakfast bar for less formal meals and frosted glass bring function to this designer space.
Sure, kitchen islands are hardworking, but they can also be equally inviting when designed specifically for family, friends or visitors to pull up a chair, enjoy conversation or lend a helping hand with prep work.
Kitchen islands with seating also add to the kitchen's overall functionality—not to mention its aesthetic appeal.
While the size of your space will ultimately determine if a kitchen island with seating will work, even the coziest kitchen might be able to accommodate an island with enough room for a small pair of bar stools pulled up to a breakfast bar or counter-height chairs on either side.
But whether you wish to seat as few as two or as many as eight, kitchen island designs with seating can be as practical or decorative as you'd like.
Don't forget, there's always the option to remove the chairs (or tuck them away in another room) if they affect traffic patterns when entertaining.
More Kitchen Island Designs
Other Ideas for Kitchen Islands