Extra storage room and diner-style seating are just two of the reasons to check out kitchen island furniture for your space.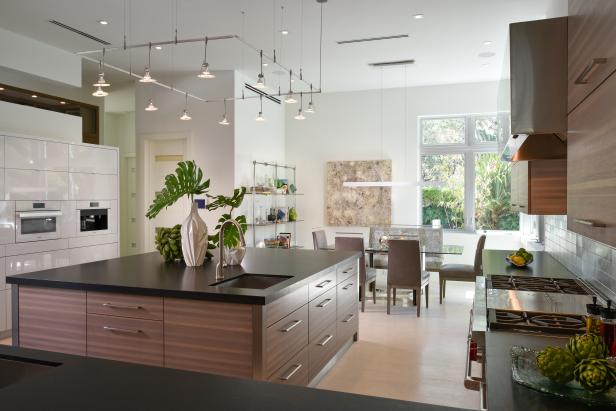 Contemporary Kitchen With Wood Island, Track Lighting
This open plan kitchen features light wood cabinets paired with black countertops. Metal track lighting hangs above the kitchen island, while white wall appliances brighten the space.
By:
Caroline Shannon-Karasik
While a kitchen island is certainly a piece of furniture all on its own, there are also several components that can be added to the overall design in order to make it an efficient space.
If you are seeking casual seating at your island, then you will want to consider bar stools or pub-style seating that will fit the kitchen island design. Be sure to measure the height of the island top by gauging the distance from the floor to the underside of the surface. Once you have the measurement, be sure to allow for room for proper leg movement before determining the seating that will work best for you.
What's more, you will also need to know how many seats you can fit at your dining space. Leave enough room between seats to make people feel like they can comfortably eat without rubbing elbows.
Other kitchen island furniture includes end shelves and butcher blocks that can be simply attached to one side of the island. A separate shelving unit allows for more storage room, in addition to an area where you might keep recipe books and other kitchen reference materials. The butcher block attachment is especially helpful for the active chef who requires extra room for food preparation.
More Kitchen Island Furniture
Other Kitchen Island Designs