Think outside the box with round kitchen islands.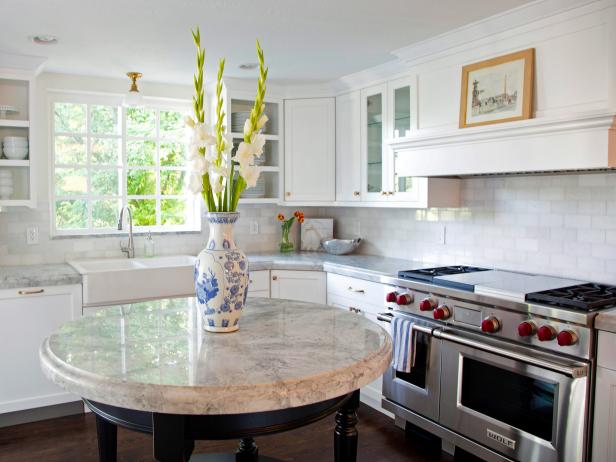 Kitchen with Marble Island
A small, round custom island provides a handy space for prepping meals, without taking up a large footprint in a U-shaped kitchen. The open base also helps the space feel bright and open.
Think outside the box with a round kitchen island that's as charming as it is unexpected. But don't let the word "round" fool you, though.
Rounded kitchen island shapes include everything from oval-, U-shaped and half-moon islands to hybrid shapes that look more like a keyhole—with one square end and one round end, perfect for accommodating as many as four seats.
Allow your imagination take shape, literally, and ask the advice of a design professional, who can best relay how a curved island will round out your space.
Some homeowners appreciate the "Top Chef" appeal that a rounded island creates when the island wraps around the prep space. The cook takes center stage while diners or guests look on from their counter-height seating for a chef's table experience.
Homeowners looking to make a statement with their kitchen island might also consider employing not one but two kitchen islands—one round and one square—to further add interest to the space.
More Kitchen Island Designs
Other Kitchen Island Ideas