Freestanding Kitchen Islands
Make a design statement—and add efficiency to the kitchen—with a freestanding island.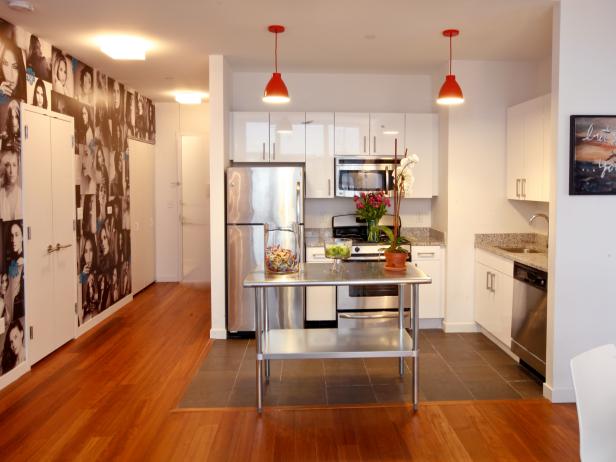 Eclectic Loft Kitchen by Novogratz With Retro Black-and-White Photo Wall
This loft-style kitchen has a retro vibe without feeling dated. Designers Cortney and Bob Novogratz updated the space with contemporary cabinets and stainless steel accents including a two-tiered island that brings purpose and functionality.
Get the extra countertop and storage space you need—without the expense of creating a custom kitchen island for your space.
Freestanding kitchen islands (think utility tables, kitchen island carts and compact butcher blocks) are also a great way to add character to the kitchen without making any permanent decisions.
Design options for a stationery kitchen island, in fact, can be just as attractive (and numerous) as the ones available for built-in models. Furniture-like islands, for instance, come with fashion-forward extras like granite or butcher-block countertops, turned wood legs, and interesting cabinet and drawer hardware.
Freestanding kitchen islands that choose function over form can still make a design statement. Think commercial-grade stainless steel work tables, or an antique-style farmhouse table, both of which are great options for accommodating both seating and storage in the kitchen.
Kitchen island carts that can transition from space to space for entertaining purposes, whether from indoors to out or from room to room. In this way, freestanding islands offer solutions that permanent models can't provide.
More Kitchen Island Designs
Other Kitchen Island Ideas