Kitchen island legs add furniture-like appeal to kitchen islands.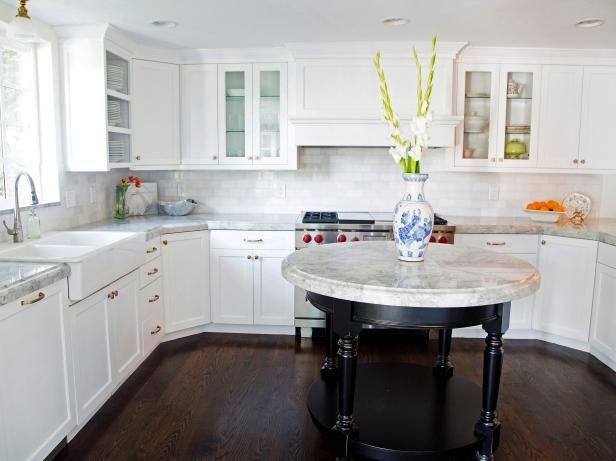 Bright and Functional Kitchen
Designer Marianne Brown designs a bright and simple kitchen to accommodate large family gatherings with a round island for food prep and plenty of niches for added storage.
Dress up your kitchen island by showing a little leg. Leggy kitchen islands are a great way to make your kitchen island look more like a well-tailored piece of furniture that captures your attention when you enter the room.
Kitchen island legs can be as varied in size, shape and thickness as dining chair legs. Think square columns that echo the style (and paneling) of cabinetry in the kitchen, decorative wood corbels that add visual weight, or turned wood legs with reeded, roped or fluted detailing.
Whichever option you choose, make sure to keep in mind the overall style of the island—and the style of the kitchen. An elaborate corbel, for instance, would look much more at home on a traditional-style kitchen island than it would on a stainless steel modern example.
And whether they're narrow or wide, round or square, tapered or bracketed, kitchen island legs are sure to add architectural interest—and character—to your kitchen space.
Other Kitchen Island Ideas
More Kitchen Island Ideas