Granite kitchen islands add color, beauty and drama to the kitchen.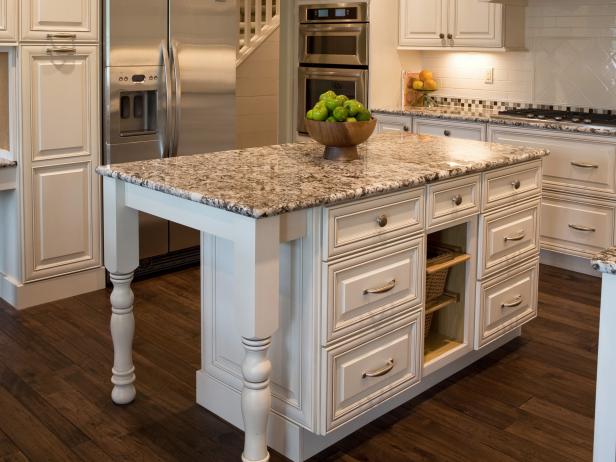 Traditional White Kitchen With Granite Countertops
This designer-style kitchen features professional stainless-steel appliances, a granite-topped center island and granite countertops with a marble backsplash.
Granite remains the most popular countertop of choice for American designers, according to a recent study by the National Kitchen and Bath Association.
White, gray and gold are granite colors that are currently trending in residential design.
Granite is also available in an astounding number of colorways (ranges of color combinations), so finding the perfect shade is simple. Just be sure to check out the slab (or a sample) in person before making a purchase for your granite kitchen island, as granite is a major investment that cannot be altered easily or cheaply.
Kitchen designers often recommend choosing your granite finish either before, or in tandem with, other room finishes such as cabinets, paint colors or flooring.
Also important: Don't feel compelled to match all countertop surfaces in the kitchen; mixing up the granite on the kitchen island and the granite on other countertops is an interesting way to layer color, pattern and texture.
Other Ideas for Kitchen Island Countertops
More Kitchen Island Options