Bring together friends and family in the coziest room in your home with these ideas for kitchen island chairs.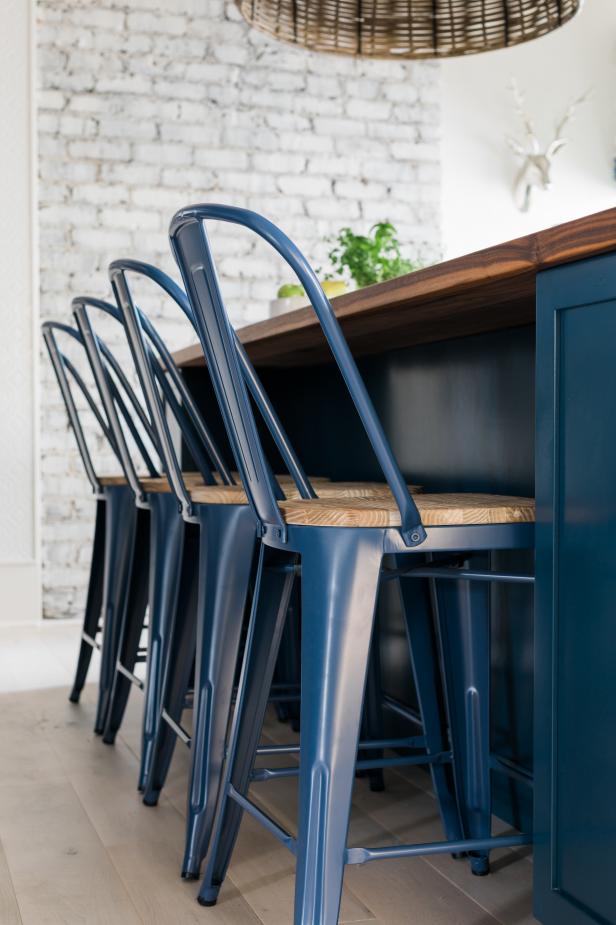 Durable Stools
The counter height modern bistro stools at island feature a scratch resistant powder coat finish in navy blue for durability.
Robert Peterson; Rustic White Photography
By:
Caroline Shannon-Karasik
Kitchen island seating makes for a casual spot to sit down with friends and family while entertaining in one of the most popular rooms in every home. While there is certainly a multitude of options, there is also an ideal one for your kitchen island design.
Before you choose kitchen island chairs, consider these questions: What type and color of material are you seeking? Should the chairs have backs? What height do the chairs need to be while still allowing room for leg and elbow space? Once you have weighed all of these factors and have a good idea of what you are seeking, it's time to find kitchen island chairs that will combine practicality with comfort.
Many kitchen island chairs are simple, backless stools made from some type of wood or metal. Some of these designs include a cushioned seating area covered by a material, while others do not.
Other kitchen island chairs are more in line with typical dining chair design, taking an elevated approach. These chairs have backs and often include a seat that is covered by a fabric or other material. If you are choosing a material, be sure to match it to the overall look of the kitchen, and choose something that is spill-resistant or that will hide common stains.
More Kitchen Island Furniture
Other Kitchen Island Designs