Kitchen Island Design Ideas
Design the perfect kitchen island with the help of HGTV.com expert advice.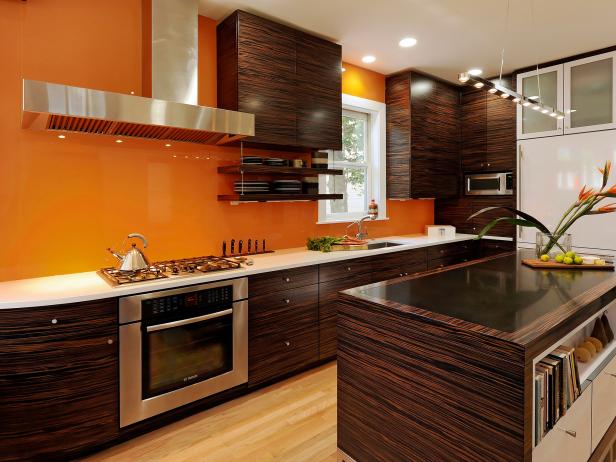 Contemporary Orange Kitchen With Zebrawood Cabinets and Island
This ultra-contemporary kitchen from designer Jennifer Gilmer features orange walls that create a sense of warmth as well as vast amounts of countertop space.
Kitchen islands are an integral design element in today's kitchens. Acting as the kitchen centerpiece, an island can be customized with dozens of time-saving, convenient options for storage, display and food preparation.
Similarly, ready-made kitchen islands, such as freestanding kitchen islands or kitchen island carts, come equipped with very specific functions, from a simple chop-block table with a single shelf to more elaborate versions with storage options for wine bottles and appliances, drawers for knives and racks for spices, towels, cups or dishes.
Whether the kitchen is large enough to accommodate a built-in kitchen island with table-style seating, or cozy enough to accommodate a smaller, pre-designed model to perform a specific task, kitchen island design ideas are seemingly endless.
Narrow down your kitchen island ideas quickly by determining how much space your kitchen will allow for an island, permanent or temporary. Next, determine which tasks you'll need this hard-working island to perform, such as extra countertop space for prep work or hidden storage for oft-used appliances. Decide on a budget, and contact a design professional if the needs of your kitchen island exceed the solutions provided by ready-made models.
More Kitchen Island Designs
Other Kitchen Island Ideas