10 Reasons You Should Try Open Shelving in Your Kitchen
It may not be a new trend, but we still love open shelving. And we're here to tell you why you should, too.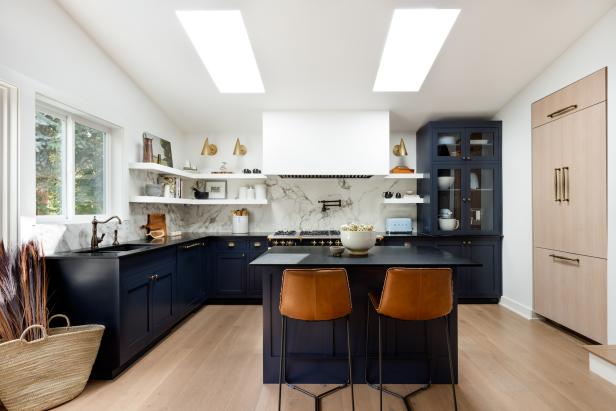 Blue and White Chef Kitchen With Skylights
There is only one bank of upper cabinets in this beautiful chef kitchen. The rest of the walls are filled with windows or airy open shelving, a move that adds to the room's spacious feel.
The open shelving kitchen trend has been around for a few years now, but real talk: it doesn't seem to be showing any signs of slowing down. While it's certainly not a look that works for everyone, it might be a great option if you're looking to inject some fresh, modern vibes into your space.
For those of you who are always trying to tame a big mess at home, I would suggest you skip this one. But for everyone else, here are ten reasons you might want to consider giving open shelving a try in your own space.

Believe it or not, open shelving is something that you can ease your way into. Start off by simply taking off your cabinet doors. This will allow you to see if the open-shelving thing works for you. If it does, you might eventually choose to replace your cabinets with true open shelves.
2. You Can Try a Combo Platter!
White, Modern Kitchen With Open Shelving
Streamlined cabinetry and clean, neutral finishes make colorful accessories pop in this modern kitchen. A tile backsplash extends to the ceiling for maximum impact, turning the lighted open shelves into a cool and stylish focal point.

Even if you're sure you want to try open shelving, you don't have to make all the shelves in your kitchen open. Consider trying a combination of open shelving and closed cabinets for the ultimate in storage flexibility. You can keep a few closed cabinets to wrangle the clutter and use open shelving for the rest of your space.
3. You Have Odd Spaces to Fill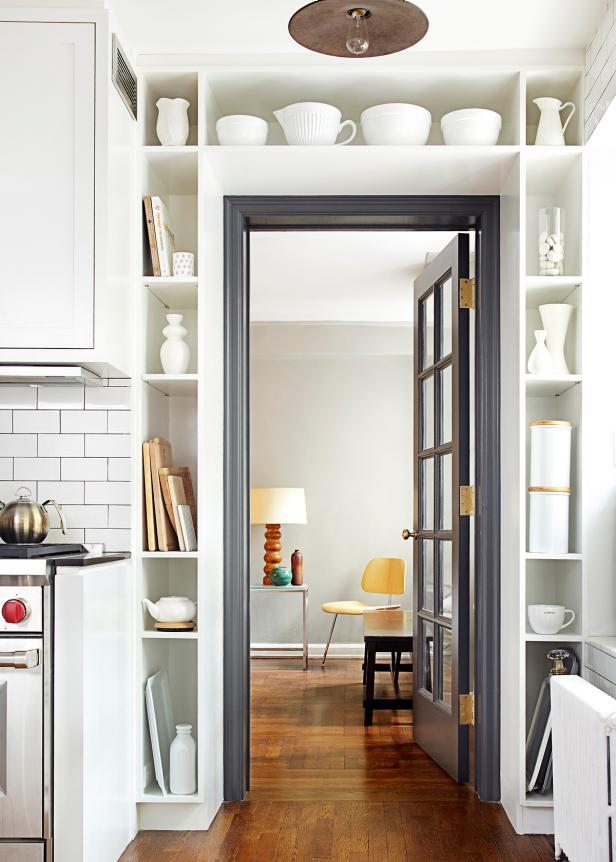 Open Shelving Around Door
What was a normal door frame in the kitchen now boasts built-in shelving for cutting boards, cookbooks and kitchen wares.

Open shelving is also a good option if you have some odd, unusable space in your kitchen. This custom shelving around the door frame adds quite a bit of storage in an area that, otherwise, would have been wasted.
4. You're Addicted to Vignettes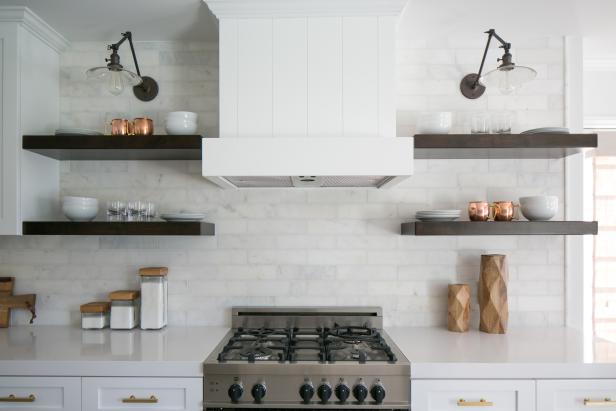 Open Kitchen Shelving
Open shelves in dark wood, white Calcutta marble backsplash and library sconces give this updated kitchen a fresh farmhouse look, designed by Lindye Galloway.

If you love "shelfies" way more than you love selfies, then open shelving might be the perfect choice for you. It will allow you to constantly switch up the look of your space by rearranging and updating your shelf vignettes. This is an especially great choice if you like to switch up the decor in your space along with the change of seasons.

If you're looking for a built-in, training-wheel kitchen setup to help ensure that you stay organized, then open shelving might be a good idea. The trick is: you have to commit to keeping things neat so you can avoid having your kitchen look like a hot-mess yard sale.
6. It's Perfect for Collectors

Open shelving is also a great option for collectors. Whether you collect glassware, certain china patterns, serving pieces, salt and pepper shakers, vintage mugs or anything in between, you're really able to show off all the items in your collection easily with open shelves.
7. It's a Budget-Friendly Solution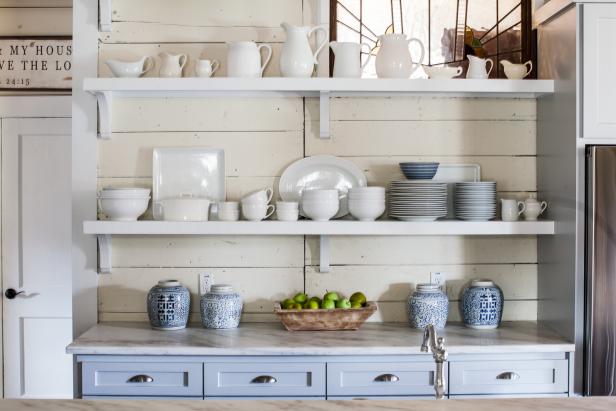 Country Kitchen Features Charming Open Shelving
Crisp white shelves pop against the creamy walls in this country kitchen. The open shelves keep the dishes organized and create a charming display. Lovely blue vases complement the light blue hue of the cabinets below.

If you've ever done a kitchen renovation, you know that cabinetry is often one of your biggest expenses. However, going with an open shelving plan in your kitchen can actually save you quite a bit of money. It could even work well as an interim solution; if you know you'd eventually like closed cabinets, but can't quite afford the upgrade yet, install inexpensive open shelving.
8. It's Super Convenient for Company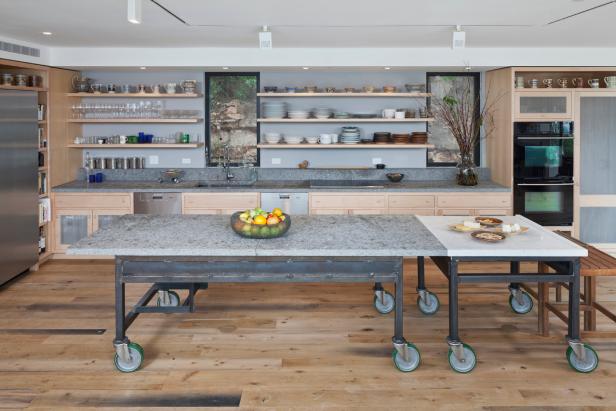 Contemporary Kitchen With Open Shelves & Industrial Island
An ultra-industrial island with metal legs and wheels provides extra space for prep work and dining in this contemporary kitchen. Open shelving offers easy access to everyday kitchenware and gives the space a stylish feel.

For those who entertain and cook a lot, it really is the ultimate convenience to have all of your kitchen items visible and easy-to-grab at all times. Guests can easily find whatever they might need, and you'll never have to worry about remembering what cabinet your good china might be hiding in.
9. It Lets You See What You've Got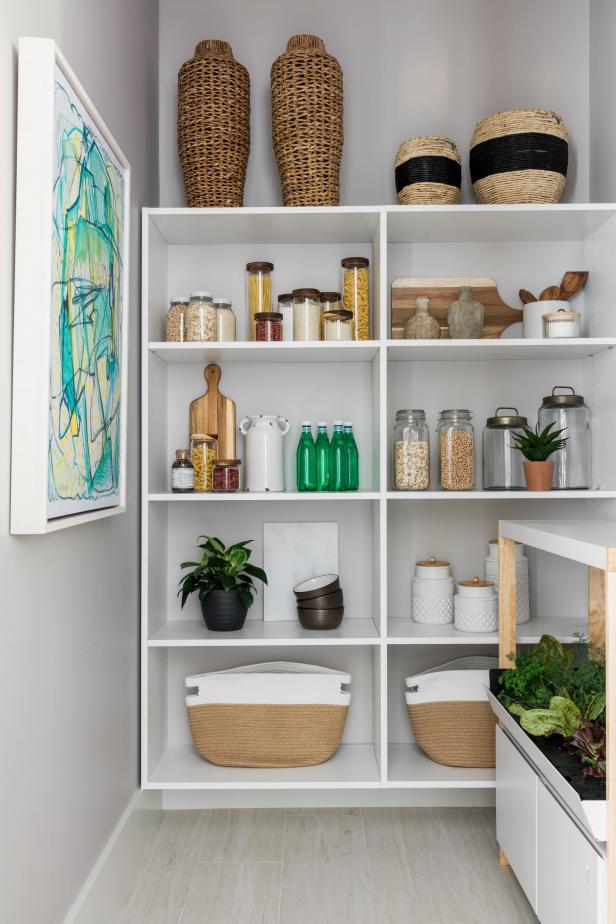 Stylish and Organized Pantry
Open shelving with stylish baskets and containers in the pantry provides plenty of storage for necessities.
Open storage in a pantry (unlike too many baskets and other devices) allows unencumbered views of and access to your staples at a glance.
10. Open Shelving Makes Cleaning a Breeze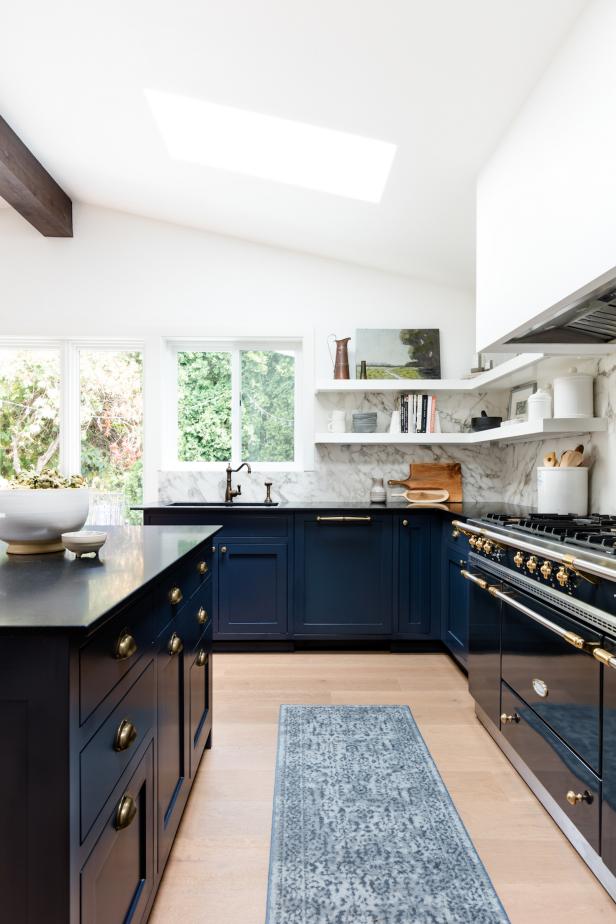 Transitional Chef Kitchen With Sloped Ceiling
Leafy green views are as much a part of this airy kitchen's decor as its artwork, tastefully mixed in with cookbooks and other supplies on the open shelves.
Items stored in an open shelving configuration tend to get used more often and therefore don't tend to gather dust. And with everything front and center, it is much easier to wipe down open surfaces.