Stationary Kitchen Islands
Increase countertop and storage space with stationary kitchen islands.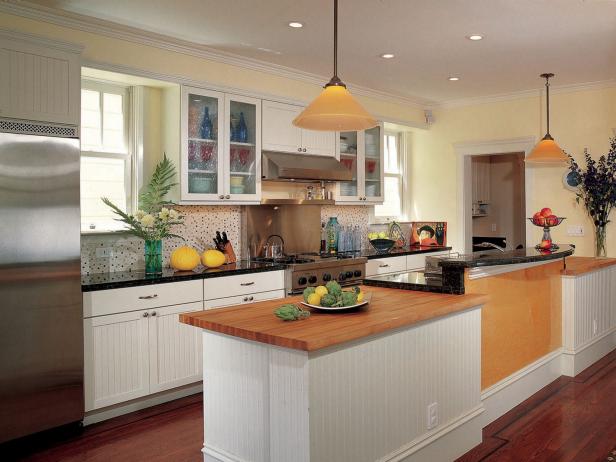 Stationary_kitchen_island_chap4_rothblatt_s4x3
In this appealing kitchen, the designer limited the use of the most expensive materials and employed simple bilateral symmetry to create a fresh and workable room. By putting glass fronts on two of the upper cabinets, he maximizes both light and space. (Design by Andre Rothblatt)
Adding a stationary kitchen island to your kitchen is a great way to increase storage and countertop space—without making any significant structural alterations (or accruing the expenses associated with built-ins).
Pre-designed stationary kitchen islands, in fact, have evolved into hyper-efficient work spaces, with models dedicated to very specific tasks. Whether it's a compact model with a chopping block top and a trash-drawer cabinet beneath, or a more generously sized option with a removable butcher-block top, these islands are the perfect solution for more counter space and easy clean-up.
Versatility is the key is to achieving stationary kitchen island bliss. Before investing in the size that's right for your kitchen, consider your needs.
Beyond providing extra countertop space, could your kitchen benefit from additional drawers for cutlery, cabinets for appliance storage, racks for wine bottles or nooks for display? Can a drop-leaf lift up to accommodate seating (and a meal) for two people? Also, don't discount moving models—many have casters that can be removed to make your model stationary.
Other Kitchen Island Ideas
More Kitchen Island Options