Kitchen Island With a Breakfast Bar
Kitchen islands with breakfast bars are the ultimate multitasking addition to any kitchen.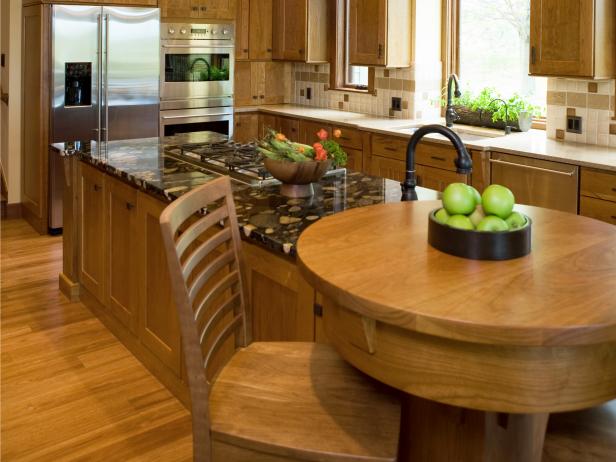 Granite Kitchen Island With Built-In Table
This custom-designed gourmet kitchen features a 42-inch high table built right into the island. The kitchen island has granite countertops that create a focal point for the space.
What makes a kitchen island a breakfast bar? A 12- to 16-inch countertop overhang that not only provides ample room for the legs and feet, but also enough room for meals and place settings.
When a kitchen island with a breakfast bar isn't providing a convenient place to catch up on the news or grab a quick meal, it also multitasks as extra countertop space for prep work or homework.
Breakfast bars may be the same height as the island counter, or raised up several inches to block the view of kitchen clutter, like unsightly dishes in the sink, appliances and more.
Just make sure the breakfast bar—and any breakfast bar seating—doesn't affect traffic patterns or disrupt the flow of the work triangle.
A good rule of thumb is to provide at least 24 inches (or as many as 30 inches, depending on the size of the space) of elbow room per diner.
More Kitchen Island Designs
Other Ideas for Kitchen Islands