Complement the aesthetic of your kitchen with furniture that's as functional as it is fabulous.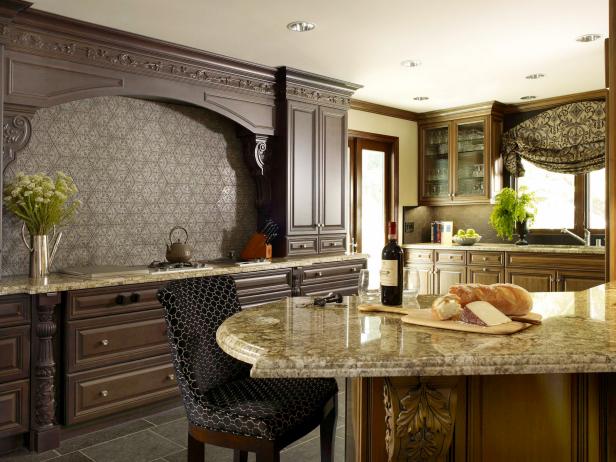 Traditional Brown Kitchen With European Elements
Designer Sarah Barnard keeps the look fresh by mixing in updated elements, like the armless upholstered barstool, pop of yellow on the island and graphic, embossed concrete backsplash.
Kitchen islands are a great way to add style—and efficiency—to your kitchen, but don't forget to factor in the appropriate kitchen island furniture.
Once you've determined the island's most important functions (surface for meals or extra work space; storage for appliances or open shelving for display), it's time to outfit the island with furniture that will not only complement its overall look, but also create a fabulous focal point in your kitchen.
Start by assessing your needs. Even the smallest kitchen might benefit from the addition of an efficient butcher block or island cart, both of which are great options for extra work and storage space. Roomier kitchens might call for a kitchen island that doubles as a dining table, complete with bar stools or dining chairs.
Beyond function, it's important to keep your kitchen's style in mind. Kitchen island furniture should enhance the room's aesthetic—as well as any other room it opens up to. Upholstered island chairs, for instance, are a great option for kitchens adjacent to the living room, while a pair of backless wood bar stools would work well in kitchens that are more contained.
However you choose to outfit your kitchen island, being precise about measurements is key.
Bar stools that are too low for the breakfast bar could equate to major cleanup for little ones, while an island cart that's not large enough for a cutting board might end up relegated to the garage.
More Kitchen Island Furniture Ideas
Before and After Kitchens