Kitchen Island with Stools
Adding stools to one side of a kitchen island is a simple way of creating a casual dining space.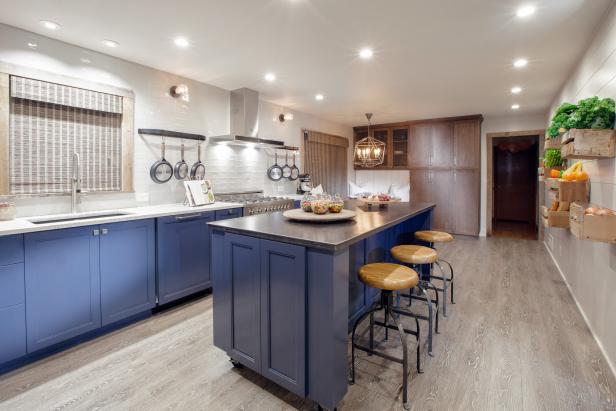 Fresh Kitchen Remodel With Blue Cabinets and Wide Plank Hardwood Floors
This transitional kitchen remodel pairs together oak and painted blue cabinets with a white subway tile backsplash and wide plank hardwood floors. Recessed lighting illuminates the space, while kitchen island stools with wrought iron legs provide a spot for casual countertop dining.
From:
America's Most Desperate Kitchens
By:
Caroline Shannon-Karasik
If extra seating is your goal when it comes to adding an island to your kitchen, then it is important to know how to choose the right stools for your space.
First, consider these questions: How many seats are you seeking? How high is the bar? What type of seats would fit your kitchen style? Once you have determined the design of your kitchen island, you can then begin planning for a bar space and the stools that will most appropriately fit.
Browse pictures of gorgeous kitchens with islands for layout ideas and design inspiration.
In order to determine how many stools will fit at your kitchen island, home experts recommend you allow 28 to 30 inches for each seating space, which means you can divide the length of your island's counter by 30 to to figure out how many stools will comfortably fit. (For example, if your island has a 90-inch countertop, you can comfortably fit 3 stools along one side.) You might be tempted to add an extra seat, but keep in mind that you don't want to pack in too many stools and block walkways or make your kitchen feel cramped.
Bar stools come in all shapes, sizes and colors. Metal, wooden and fabric-covered stools are available, in addition to backless stools and ones that have arm rests. If your stools are covered with a material, then choose a fabric in a spill-friendly color or one that will easily resist a stain.
More Kitchen Island Options
Other Kitchen Island Designs