Design a kitchen island that's as stylish as it is practical for your space.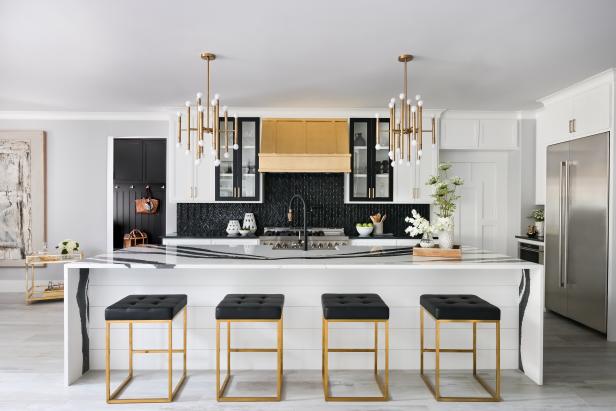 Black and White Open Plan Kitchen With Striped Countertop
There is elegance in spades when it comes to this Chanel-inspired open plan kitchen, starting with the black backsplash and the dazzling gold range hood. Twin chandeliers light the way over the zebra-striped island countertop. A quartet of gold-and-black stools finish the posh look.
Designing the perfect kitchen island—one that best accommodates the needs of not only your space but also your family—can feel overwhelming.
Kitchen island options are endless: counter-height or bar-height breakfast bar; open shelving for display or cabinets with drawers for storage; extra sink or cooktop. And each decision informs another.
Installing a cooktop in the kitchen island, for example, means you'll need to add a hood overhead—along with the appropriate ventilation. As you evaluate your needs, understand that placement here is key.
If you're building in appliances like a dishwasher, you'll want the cabinets in which you store the servingware close by. If you're specifying other bells and whistles, like a warming drawer, microwave oven or under-counter refrigerator, make sure there's enough countertop space above to place a hot bowl without spilling, or place a few cold drinks when guests pull up a seat.
Beyond built-in, storage and counter options, determine if your kitchen allows enough room for seating, whether at a table-style island or breakfast bar.
When friends, family members or guests can pull up a chair (or stool) and stay a while, seating at the kitchen island becomes a necessary luxury, allowing the cook to stay in the conversation, help with homework, or request help with prep work—any cook's dream.
More Kitchen Island Designs
Other Ideas for Kitchen Islands