Kitchen Island Accessories
Accessorize your kitchen island with practical and convenient amenities.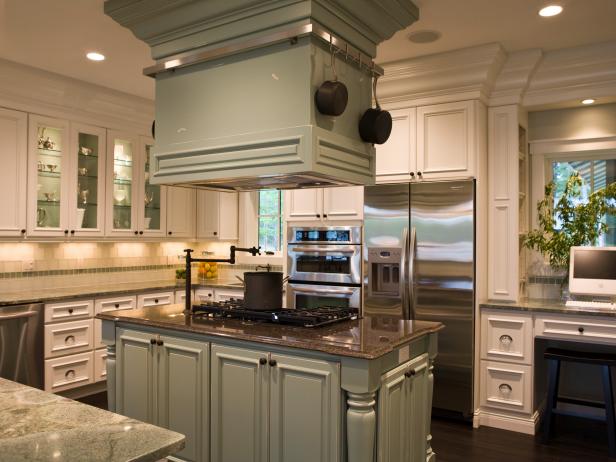 Sage Green Gourmet Kitchen
This custom-designed pro-style kitchen features a custom-designed stone island, deck-mounted pot filler and one of a kind hood mixed with state-of-the-art appliances. The sage green kitchen island and range hood tie in with the green accents in this transitional kitchen.
A kitchen island is the ultimate accessory. What better way to outfit the heart of your home than with a functional work and storage station that lets every member of the family interact, whether they're cooking or dining?
Kitchen islands act as a great equalizer. Whether you're entertaining, cooking or taking a load off, kitchen island options are so varied that there's bound to be a pre-designed model that perfectly fits your needs in the kitchen.
Selecting the kitchen island accessories that are just right for your space is easy. You can choose a kitchen island that's portable (move it inside or out, or from room to room depending on your needs), or a stationery island.

Whatever your choice, you'll find options that are every bit as beautiful (and practical) as a built-in, thanks to extras like granite or butcher-block counters, or storage options with specific tasks like cutlery drawers, wine racks or a display niche.
Other Kitchen Island Ideas
More Kitchen Island Ideas