Add interest—and extra storage to your kitchen island with convenient kitchen island cabinets.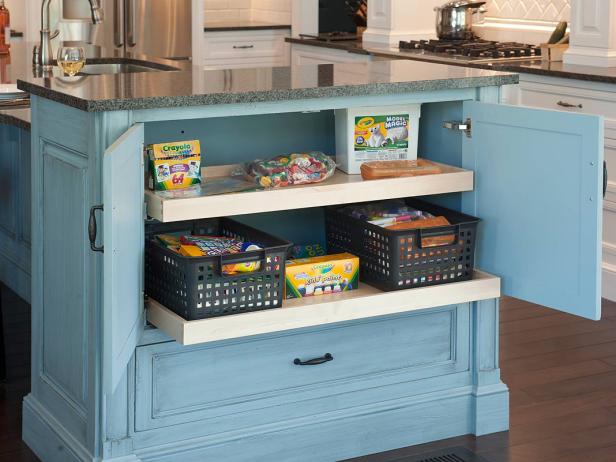 Kitchen Toy Drawer
Keep little ones busy while you finish up dinner prep with hideaway kitchen storage for art supplies. Roll-out shelves make the most of the storage space at the end of this colorful island and make it easy for kids to access crayons and paper then neatly put everything away again. Photo courtesy of Mullet Cabinets, Inc.
Whether your kitchen island is a freestanding piece of furniture or a custom-designed built in, it's fun to get creative with storage (and aesthetic) options when choosing cabinets with the right look and feel for your space.
Many pre-built models are designed with cabinets that keep prep essentials within reach, housing fixed shelves or drawers convenient for appliances, cookware or bakeware that are most often used.
Even little details like drawer pulls (think icebox latches) or hidden compartments (locking knife drawers and pull-out counters) take multitasking to the extreme.
Does the color of the kitchen island cabinets need to match the other cabinetry in the kitchen? Not necessarily. Introducing a new color, in fact, whether it's through the finish on the cabinets or the pattern of the countertop, allows the island to make a dramatic visual statement, adding interest to the overall space.
Other Kitchen Island Ideas
9 Hot Trends for Today's Kitchens