Replacing Kitchen Cabinet Doors
Replacing your kitchen cabinet doors can breathe new life into an outdated kitchen. See our tips below on how to give your kitchen a facelift without spending a fortune.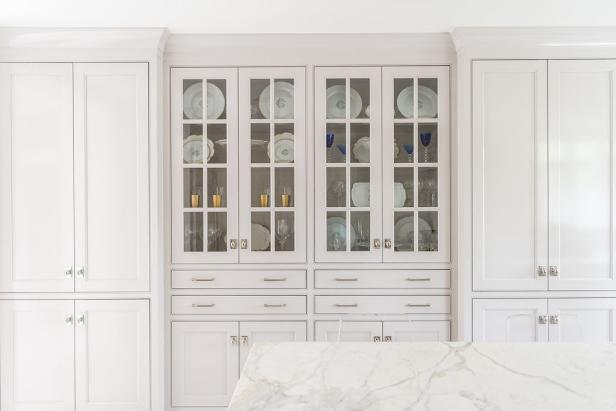 China Cabinet and White Kitchen Cabinets
New cabinetry allows for china plates, crystal and silver to be stored in a way that's both beautiful and functional.
Whether it's because your cabinets have deteriorated or you've simply outgrown them and want a fresh new style, replacing kitchen cabinet doors can make a dramatic difference in your space, giving it a lift and making everything seem new.
Get all the info you'll need on kitchen cabinet refacing, and ensure your kitchen cabinet makeover will be a stylish success.
There are two main costs when it comes to replacing kitchen cabinets: the materials and the installation. The average cost of stock or semi-custom kitchen cabinets and installation will normally run you between $3,200 to $8,500. If you opt for fully custom cabinets, you jump up to $12,500 to $18,100 for materials and installation.
You can save a considerable amount of money by installing cabinets yourself. Stock or semi-custom cabinets run between $160 to $380 per linear foot, and fully custom options average $700 to $1,000 per linear foot. However, keep in mind, you're still looking at a significant shipping expense for the cabinets due to their size and weight.
Bottom line: Replacing only cabinet doors can save you a ton of money and a large headache. Total cost for installation and materials of kitchen cabinet doors typically runs between $4,000 to $5,000, depending on personal taste.
Reasons to Only Replace the Doors
Replacing only the cabinet doors can achieve a similar look to replacing all the cabinets, but at a fraction of the price. Not to mention this is a much less strenuous renovation, if you're looking to do it yourself. Tearing old cabinets out of your kitchen can cause damage to your countertops and flooring. For those who are budget conscious, cabinets often cost up to a half of a total renovation budget.
Once you've made the decision to replace your kitchen cabinet doors, you'll need to decide on what kind of doors you want in your space. Your options include custom doors, semi-custom, stock or ready-to-assemble (RTA), and whether or not you want wood, veneer or laminate. Custom doors are designed by you and built to your specifications. Semi-custom are exactly what they imply; they have some prefab elements and some custom elements. Stock are established designs you buy and install, and ready-to-assemble doors require some DIY skills.
Once you've decided on a material, you will need to decide on the style to ensure the doors match the style of your existing cabinet boxes. This can be accomplished with paint, staining or refacing the boxes for a more streamlined, consistent look. Some options for the style can be flat panel, which are doors with a flat center panel and a raised frame. Another style that's popular is raised panel cabinet doors, which have a raised center panel surrounded by a contour. A slab cabinet door is usually preferred in contemporary designs and is a smooth, flat slab with no contours, panels or accents.
Plan for Any Accent Doors
Accent doors are used to bring added style into the kitchen. These can be louvered, glass, mullion, chalkboard and sheet metal. They serve well for reinforcing an existing design style and adding a little flair to your kitchen.
Replacing the doors involves taking off the existing doors, face frames and hardware while keeping the cabinet boxes where they are, and putting on new doors and face frames with the same hardware or new hardware. New drawer and cabinet pulls will make a dramatic difference in the overall design when complete. Also, consider updating the interior cabinet hardware and drawer sliders to soft close, which will make your kitchen feel extra luxurious.
More Kitchen Cabinet Door Ideas and Options
Other Kitchen Cabinet Ideas