Add vintage flair to the kitchen with a character-rich, time-worn vintage kitchen island.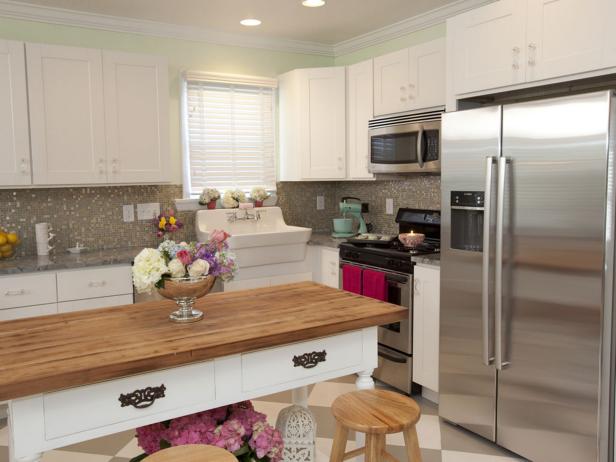 Charming Kitchen With Antique Table as Island
Soft green walls brighten the mood of the entire room. Jonathan brought in stainless steel appliances, a sparkly glass tile backsplash, granite countertops and a modern sink with a vintage feel. An antique table used as an island is the height of shabby chic, as seen on HGTV's Property Brothers.
Looking to add vintage flair to your kitchen island? One of the simplest ways is to repurpose a piece of vintage furniture—think a paint-peeling desk, a well-worn dresser or a flea-market find.
Adding vintage character to the salvaged piece can be as simple as sanding and re-staining, or as elaborate as retrofitting the island with new shelves and fabric-insert cabinet doors.
When looking to add vintage style to the kitchen island, don't underestimate the power of accessories. Brushed-metal bin pulls installed on the cabinetry, round metal bar stools that swivel, or even a distressed finish on a newly painted piece are great ways to achieve that worn but charming feel.
Complement your vintage kitchen island with a variety of textured surfaces, like an exposed-brick backsplash or brick-pattern floors. Colorful retro appliances are also back in vogue—such as 50s-inspired refrigerators available in a wide range of shades from pastel green to cherry red and buttercup yellow.
More Ideas for Kitchen Island Styles
Other Ideas for Kitchen Islands