Painting Kitchen Backsplashes
Find out everything you need to know about painting your kitchen backsplash, plus our favorite techniques to inspire your next DIY project.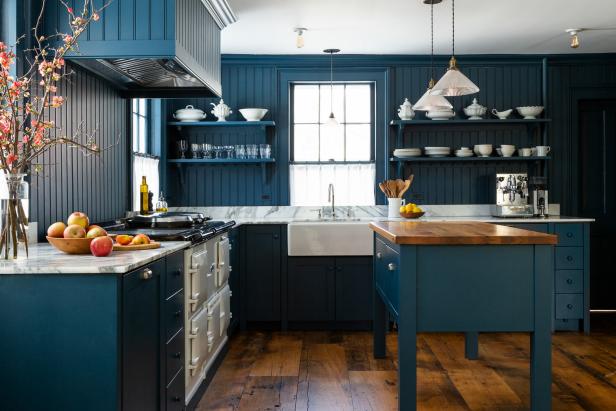 Striking Country Style Blue Kitchen With Reclaimed Wood Floors
The old kitchen was expanded and redesigned to feature Shaker-inspired cabinets, beadboard walls and a worktable. The white, vintage AGA range was purchased online and driven back to Pound Ridge from Montana. The counters are Arabescato marble and the space opens up into the dining room.
Paint is one of the easiest and most affordable ways to update your home. In the kitchen, a few cans of paint works wonders on walls, cabinets, kitchen island, table, chairs and even your backsplash.
You can paint your kitchen backsplash a solid color for a polished look, use a stencil for some one-of-a-kind flair or even create the look of faux tiles using a paint pen and laser level.
Below, get the scoop on our favorite ways to paint a kitchen backsplash and check out our easy-to-follow DIY tutorials.
Explore dozens of beautiful kitchen backsplash ideas comprising all different materials, colors and designs.
Choosing a Backsplash Color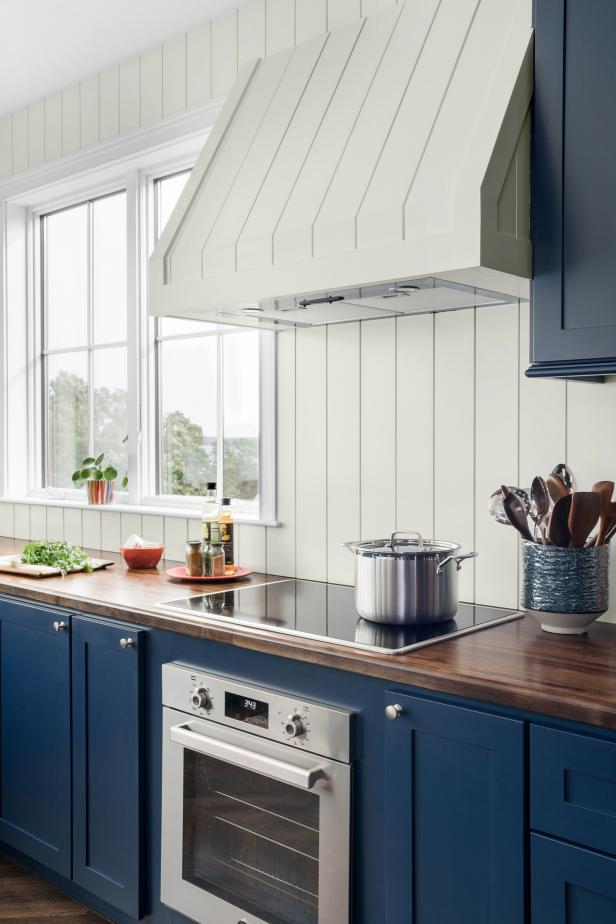 Nautical Nickel Gap
Nickel gap creates a timeless backsplash against the walnut butcher block counters. Using nickel gap on the oven hood adds custom style and draws the eye up to keep the room feeling bright and open.
Robert Peterson, Rustic White
The first step to painting your kitchen backsplash? Determining the perfect paint color, of course! There are, quite literally, endless shades to choose from, so we advise you to consider the existing colors in the room (think: cabinet, floors, doors) before making your final selection.
Pro tip: Contrast is your best friend. If your kitchen has dark, moody cabinets, choose an airier shade for your backsplash to lift the space and keep the room from feeling too heavy. If you have white or light-colored cabinets, a saturated, vibrant or shadowy paint color will keep the kitchen design grounded and balanced. The best part? Painting your kitchen backsplash is easy and inexpensive, so you have the green light to go ahead and have some fun. Plus, if you hate the results, you can paint over it and start fresh with a new hue.
MORE IDEAS
Discover the best paint colors to use in your kitchen.
READ NOW
Stenciling a Kitchen Backsplash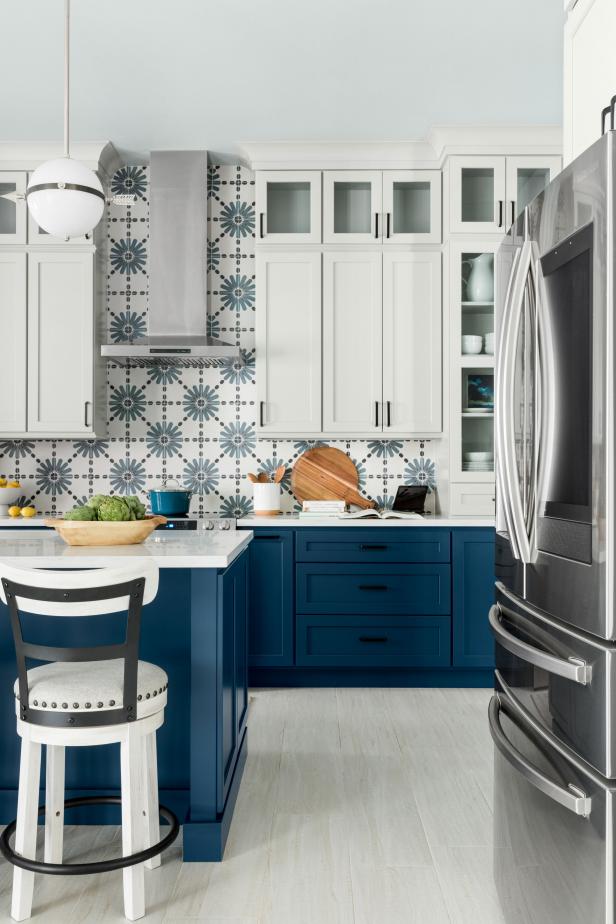 Light and Bright Kitchen Colors
White-washed porcelain tile floors keep the space feeling bright and open, and play off the white counters and two-tone custom cabinets. Using navy blue cabinets on the lower section keeps the kitchen feeling grounded and adds a dash of color to the space that feels young and modern.
A simple, solid color can work on a kitchen backsplash, but playing it safe may feel lackluster over time. If you want to lean into your inner drama queen (we fully support!), try stenciling a custom design on your backsplash.
An easy and affordable way to update a room, applying stencils to existing tiles can also create a striking backsplash. They're also much less permanent and pricey than replacing your existing tiles, and you can easily paint over the results when you're ready for something new.
MORE IDEAS
Remodeling on a budget? Give outdated floors a refresh with our step-by-step guide to painting and stenciling ceramic tile. All you need are a few basic supplies and a free weekend to totally transform the look of a laundry room, bathroom or other place in your home that's plagued by old or dirty tile. The best part? You can do it all for less than $75 and without special equipment.
READ NOW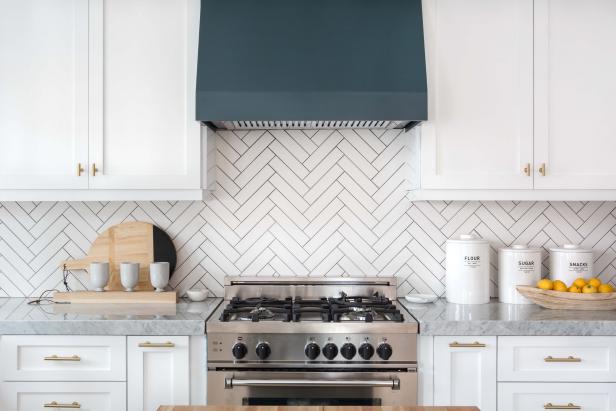 Blue-Gray Range Hood Adds Color to White Kitchen
This white kitchen gets some color and personality thanks to a blue-gray range hood. Herringbone-pattern white tile makes up the backsplash, adding texture to the room.
If you love the look of tile, but prefer to use paint on your backsplash, you can create faux tiles with paint. This can be a tedious process, but the results are worth it. Using the tape to create different sized "tiles," you can mimic several different materials, from glass to stone. If you'd like to incorporate various colors into your backsplash, this technique is the way to go.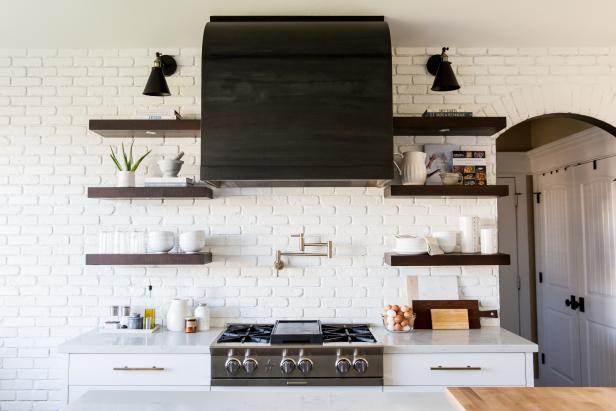 Chic Black Range Hood in Kitchen
Instead of using subway tile as a backsplash, the designers chose to paint a brick wall white. In turn, they achieved the same overall look, but with a little extra character and charm. When layered with a black range hood and sconces, the space feels clean and modern.
Revive your outdated tile backsplash with a fresh coat of paint. This budget-friendly makeover promises to revive your kitchen design in a weekend or less — without draining your bank account in the process. Our secret to creating a clean, cohesive painted tile backsplash is to paint the tile and the grout one solid hue. This technique is more forgiving and much less time-consuming than trying to tape off each grout line before painting.
MORE IDEAS
Give your kitchen a facelift this weekend with a little elbow grease, some 220-grit and a lot of epoxy paint. Find out how to paint a tile backsplash with this step-by-step guide and shop everything you need to get started from our comprehensive materials list.
READ NOW
Paint a Chalkboard Backsplash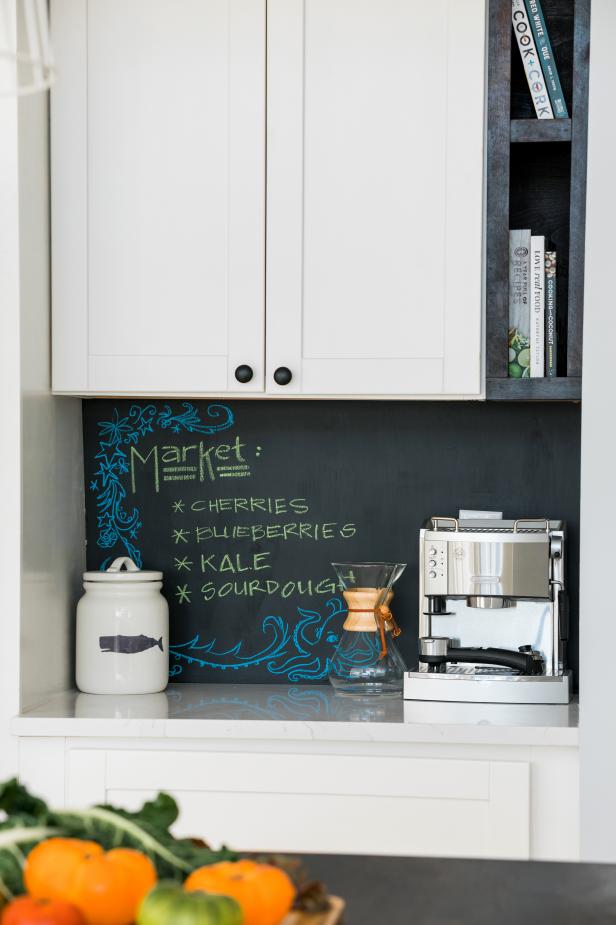 Playful and Practical
Chalkboard paint was used by the entrance to the pantry, to create a handy message center with storage cabinet above tucked away from the rest of the kitchen. Open slots by the upper cabinet allow storage for cookbooks and other kitchen essentials.
Robert Peterson, Rustic White Photography
You can also use chalkboard paint to create a unique backsplash in your kitchen. The classic black chalkboard color works well with white or light-colored cabinets, while a lighter shade is recommended for dark cabinets. A chalkboard backsplash will provide a canvas where you can write down grocery lists, recipes or special notes for your family. Easy to wipe clean, chalkboard paint works well in a space where there tends to be grease and spattered food.
MORE IDEAS
A drywall kitchen backsplash doesn't have to be boring. In just an afternoon you can transform it with chalkboard paint and a little trim. This inexpensive project packs a powerful visual punch and makes any kitchen chore more fun.
READ NOW
Hand-Painted Wallpaper Backsplash
Make a (removable) statement with a hand-painted wallpaper mural backsplash. Apply peel-and-stick wallpaper to your kitchen walls, then put your artistic skills to work creating a one-of-a-kind display. Above, interior designer Andrea Schumacher wraps the otherwise classic kitchen with a hand-painted flowering vine wallpaper, rich with color and whimsical flair.
MORE IDEAS
Shop our go-to online wallpaper sources for every style and budget.
SHOP NOW