Cabinet Types: Which Is Best for You?
Consider style and quality when selecting kitchen cabinets for your remodel.
These are the four basic types of cabinets: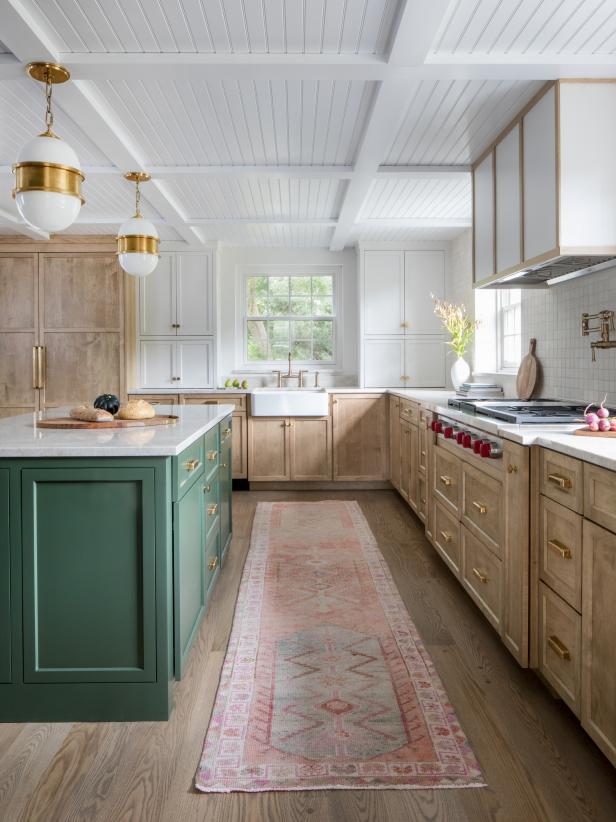 Kitchen Features a Bright, Green Kitchen Island
This kitchen includes an emerald green island that pops against the kitchen's maple base cabinets and white, quartz countertops.
Raquel Langworthy Photography
Base. Standard base cabinets are 24 inches deep and 36 inches tall. Depth may be increased up to 27 inches on some semi-custom and custom applications. For ease of use, base cabinetry rests atop a four-inch recessed riser called a toe kick.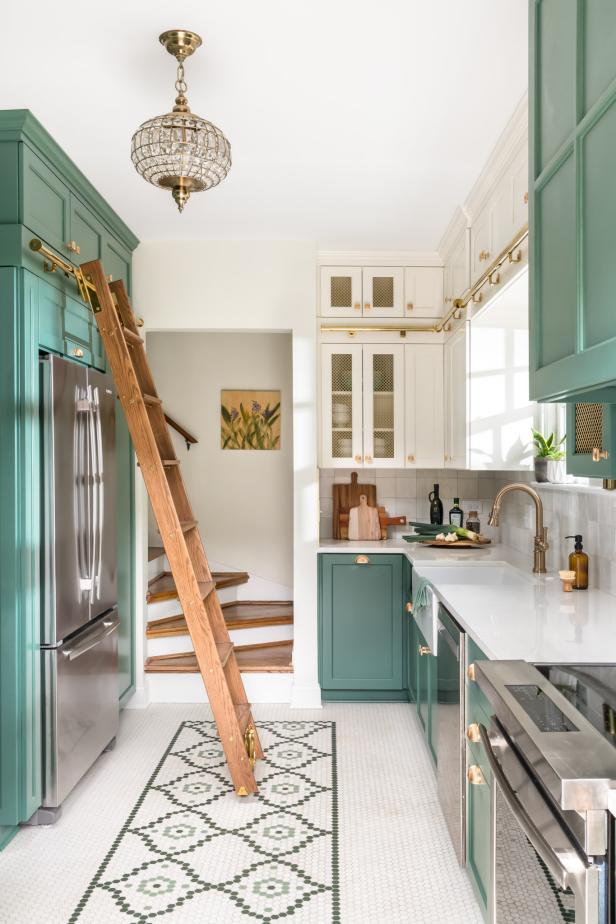 Small Green & White Kitchen With a Library Ladder
To maximize storage and efficiency in this small bungalow kitchen, designers included cabinetry to the ceiling with a library ladder for easy access. With no stone left unturned, even the flooring boasts a beautiful penny tile rug design that perfectly matched the green lower cabinetry.
Wall. Upper cabinetry is generally 12 inches deep but can be increased to 17 inches on some semi-custom and custom applications.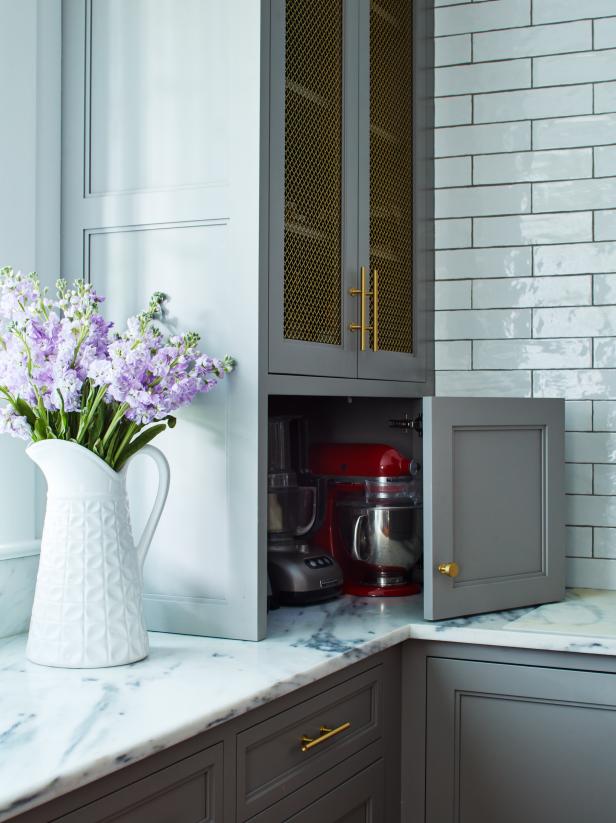 Kitchen Cabinet With Appliance Storage
To keep countertops clutter free, designers installed two tall cabinets in this kitchen to house appliances and other gadgets. Bi-fold doors open to the side, so no valuable storage space is taken up by retractable doors.
Tall. Tall cabinets are typically 83.5 inches in height, serving as pantry space and broom storage.
Specialty Units. Specialty units maximize square footage and organization efforts. They include corner cabinets, sink/cooktop fronts, suspended units, hutches, bottle racks and appliance garages. An 18-inch backsplash creates usable workspace between countertops and the bottom edge of upper cabinets.
Cabinets play an important role in both your kitchen's appearance and functionality. From cleverly concealed appliances to unique cabinetry hues, explore the latest trends and styles for your kitchen.
Cabinets are grouped into four grades based on quality of construction: ready-to-assemble (RTA), stock, semi-custom and custom. Decide up front on the amount of money to be invested in cabinetry and then browse cabinetry lines and options within your budget. Cabinetry prices are measured in lineal feet, ranging from around $50 per lineal foot to $500 per lineal foot. Installation costs may be included but are often quoted separately. Look for sound construction, regardless of whether you are purchasing stock, semi-custom or custom cabinetry. Maintain an open mind—well built, inexpensive cabinetry can look spectacular and may be well suited for many applications.
Ready-to-Assemble (RTA). Readily available and constructed with cost in mind, these cabinets are purchased boxed from chain home stores. Selection is narrow in style, size and material and they require assembly. If you are skilled with do-it-yourself home improvement projects, you can save a significant amount of money on RTA cabinetry. However, long-term durability often results in trouble over time. If you are considering purchasing RTA cabinetry, make sure you are well versed in constructing and installing cabinetry, which can be tricky, even for a skilled professional.
Stock. Purchased pre-sized from their manufacturer, stock cabinets are a basic and economical option. Stock cabinets are mass-produced, available in fixed sizes and cannot be altered, making them less versatile for existing spaces. These cabinets are constructed on site from modular units. Stock cabinets are size-specific, measured in 3-inch increments. Stock cabinet materials range from particleboard covered with plastic laminates or melamime to solid wood, depending on the manufacturer. They offer a relatively limited range of accessories. While some stock materials only meet minimal standards and aren't generated from valued woods, thoughtfully purchased stock cabinets may offer attractive and affordable style without sacrificing quality. The price of installation for stock cabinetry is typically not included in their purchase price.
Semi-Custom. With a broader selection in both style and material, semi-custom cabinetry generally marks the mid-range option in terms of price point. Semi-custom cabinetry allows some size adjustments and usually offers better quality cabinet construction. "These are special order cabinets. They're standard in certain sizes but can be altered for increased depth," says home improvement center specialist Wanda Edwards Lee. "They offer some changes but not all." Semi-custom cabinetry boasts an extensive selection of styles, finishes, storage solutions and decorative enhancements, featuring a personalized look at a reasonable price point. Semi-custom cabinets consist of everything from stock cabinets fitted with custom doors to made-to-order cabinets selected from a manufacturer's catalogue of featured styles, materials and finishes. Price of semi-custom cabinets usually includes installation.
Custom. On the high-end, custom cabinetry is completely made-to-order and offers the most diversity in style, material, finishes and accessories. These cabinets are one-of-a-kind with tailored sizes and innovative design solutions, suiting even the most unique spaces. Narrow measurements with exact increments down to the 32nd of an inch offer precision rivaling English Imperial standards. While design options are limitless, these high-dollar cabinets can quickly exhaust a budget. "With custom, you'll get exactly what you want with the superior hand-built construction of skilled artisan," says Josh Kayer, owner of Martin-Star Cabinetry. "It's designed much like furniture. You have the flexibility of any size, shape, depth, or finish and accessories that push limits. Possibilities are endless—there are absolutely no standards." The price of custom cabinetry often includes installation and delivery.
Consider factors like frame type and construction materials when choosing kitchen cabinets for your remodel.