Get your kitchen rolling efficiently with a portable kitchen island.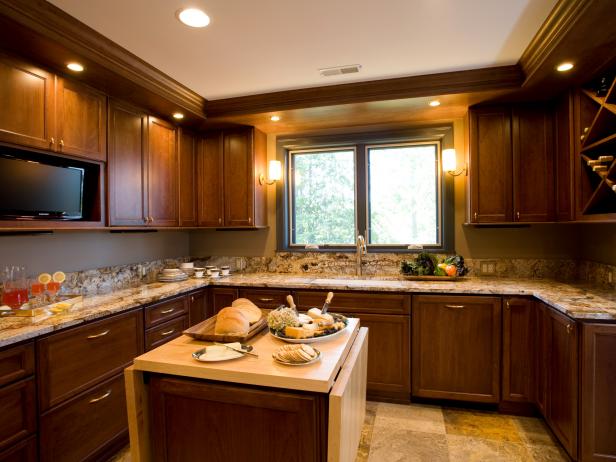 Traditional Brown Kitchen With Granite Countertop
This kitchen showcases granite countertops and a functional island that is portable to accommodate a busy cook.
Looking for a quick, wallet-friendly way to update your kitchen? Look no further than a portable kitchen island, which offers the same advantages as a built-in island—without being stuck in one place.
Even better, many mobile island options come with similar upgrades to those of permanent islands—from granite, butcher-block and stainless-steel countertops to distressed or hand-rubbed finishes on the cabinets or base.
After determining the size and shape your kitchen can accommodate, choose a rolling kitchen island that best fits the needs of your space. For instance, islands can offer extra storage and display space or dedicated countertop space for tasks such as chopping or kneading. Kitchen islands on wheels are also great for entertaining; transport everything from barware or serving platters indoors or out, or from the kitchen to the dining room with little hassle—just follow the party.
Movable kitchen islands offer a variety of conveniences, such as towel, cup or spice racks, drop-leafs, wine racks or even a breakfast bar with room for seating.
Other Kitchen Island Ideas
More Kitchen Island Ideas