Furniture for Small Kitchens
Revamp your small kitchen furniture with seating, tables and kitchen island to fit and function within your space.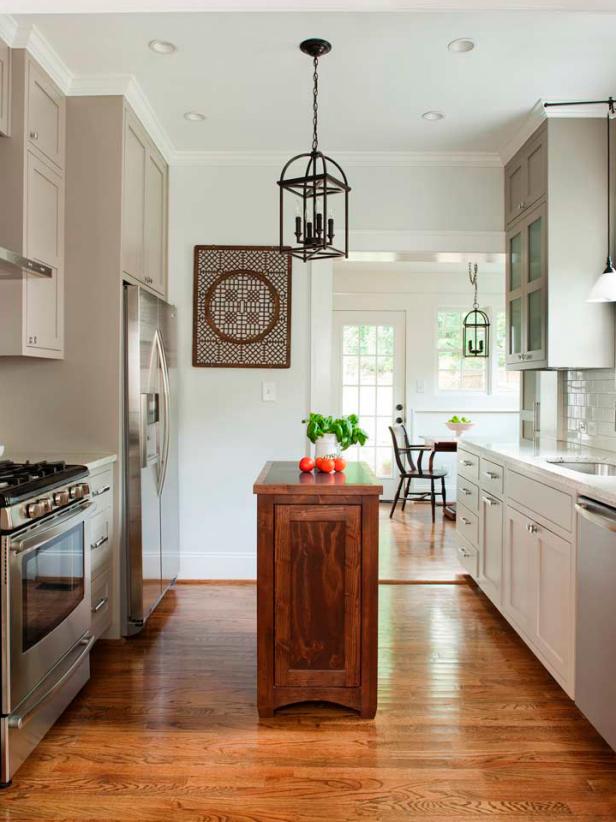 A Small Island for a Small Kitchen
If you think that an island only works with an open-concept layout, this galley kitchen designed by TerraCotta Properties is proof that an island can work in a smaller kitchen. The key is to customize the piece to fit the space and allow for traffic flow — around 36 inches — on all sides.
Like every detail in your cooking space, small kitchen furniture must be streamlined to fit the tight confines of the room. Maximize a minimal floor plan with seating and tables that suit your favorite room in the house without overwhelming it.
The heart of every kitchen is the family table. Even in cramped quarters, the dining table, in any of its many forms, serves as a focal point. If you have an eat-in kitchen layout that can accommodate a traditional table, then be sure to pull out the measuring tape before choosing a table style. To prevent a boxed-in feeling, allow at least a 7-foot clearance for a table (3-1/2 feet on either side).
Round tables are ideal for small kitchen spaces because they promote conversation and can squeeze in a few more guests than a rectangular model. When it comes to making this decision, think of a pared-down silhouette such as a single pedestal base, like the mod tulip table. A built-in bench also needs a table to complete a cozy breakfast nook, so select a version with a small footprint rather than sturdy, stocky pieces. On the other hand, tables with straight edges and removable leaves can be shortened and eased against a wall for more space. Whatever the style, attaching casters to your table offers optimal versatility. Slide it alongside a built-in kitchen island to serve as a makeshift peninsula or whisk it to another room to allow for a free-flowing kitchen floor plan.
Although center islands are often fixed elements in a kitchen, they can also be mobile cooking prep and dining units. Let your space dictate the scale and style of your removable island. For example, choose a narrow model for a galley kitchen and an open-base style for a space with a modern aesthetic. These workhorse pieces serve double duty in small kitchens by maximizing countertop space and storage through shelving, which readily offers visual access to kitchen supplies and essentials. Combine kitchen island convenience with style by choosing a material like stainless steel or wood that complements your existing finishes; uniformity conveys the feeling of spaciousness in a smaller room.
What's a table without chairs to pull up to it? Selecting the right seating is paramount to the overall style and function of a small kitchen. Again, you'll want to pair the seating with the floor plan while maintaining the "less is more" concept. For example, it's a smart idea to pass on bulky armchairs to line the dining table in favor of slender bistro chairs or barely-there Lucite chairs to eliminate visual clutter. Backless barstools are easily tucked under the kitchen island, while built-in or stand-alone benches conserve space by easing against a wall in the breakfast nook.
Finally, freestanding furniture, like a baker's rack or a bookshelf, lends warmth to a kitchen. In addition to providing added storage for stashing entertaining tools, try using glass-front or open styles as a display area for pretty dishes. To minimize its bulky footprint, paint the piece in the same theme as your cabinets.
Other Furniture Ideas for Small Kitchens
Inspiration for a Small Kitchen