Galley Kitchen Remodeling
Get all the info you need on galley kitchen remodeling, and prepare to add an efficient and functional design to your kitchen space.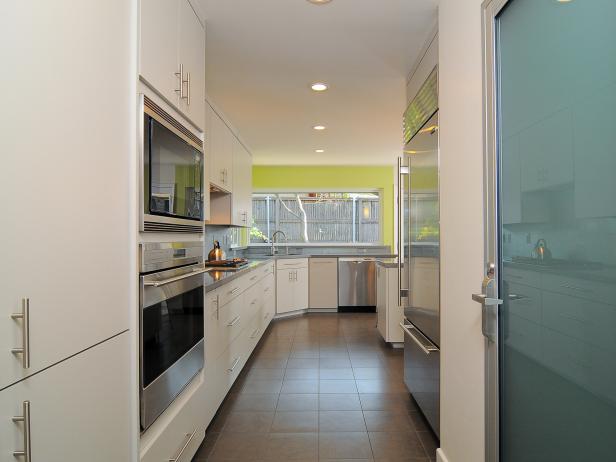 Contemporary Galley Kitchen with Bright Accent Wall
Form meets function with beautiful results in this sleek contemporary kitchen featuring state-of-the-art appliances. The white cabinets are complemented by gray countertops, while a yellow accent wall helps to elongate the space.
2012 BRIAN KELLOGG PHOTOGRAPHY, 2012 BRIAN KELLOGG PHOTOGRAPHY
Galley kitchen remodeling can be a great way to take a kitchen space that's already efficient and functional and add elements that increase both its utility and attractiveness.
In general, galley kitchens are smaller spaces, which can be a great benefit to anyone involved in cooking or food preparation. The famous "work triangle," which co-locates the refrigerator, stove and sink, offers maximum efficiency with minimal steps between the various components. The tradeoff is that sometimes the space can feel cramped, dark and not terribly welcoming to guests. A galley kitchen remodel can address all of these concerns via some simple tweaks, many of which can be achieved on a budget or even without raising a single hammer.
One of the elements you'll definitely want to consider in a galley kitchen remodel is the addition of space and storage. Always a key concern, especially for smaller galley kitchens, space, storage and surface area can be added via a kitchen island, peninsula or other storage options like countertop containers or pantry storage.
If you're considering adding a kitchen island to your galley kitchen remodel, you may be able to do so without any construction required. Portable kitchen islands are widely available, and they can be a great option for galley kitchens that are small enough to require a more flexible design. They can add the same types of storage as a permanent island, featuring drawers, cabinets and pull-out elements that will allow for cookware and other supplies to be secreted away. The countertop of a kitchen island can be used for cooking preparation or as additional bar-type seating for guests.
More costly and complicated—but also potentially more efficient—is a permanent kitchen island. The benefit here is that you can add functional kitchen features like a stove, sink or refrigerator to the island, completing or adding efficiency to your existing work triangle configuration. You'll need plumbing and electrical hookups if you're going for a full-featured island, as well as the budget to support the installation. However, this can be a great option for a larger galley kitchen remodel.
Similarly, a galley kitchen remodel can often involve the addition of a kitchen peninsula. Whereas a kitchen island can sometimes be cumbersome in galley kitchens—especially a smaller one—a peninsula may give you the added storage and functionality you want, with a more out-of-the way design. Generally, a kitchen peninsula will connect to one wall of a galley kitchen design, creating an "L" shape and offering all the potential benefits of a kitchen island in a more open design scheme.
More Kitchen Accessories and Decorating Ideas