How to Make a Decorative Pegboard Shelf
Need wall storage but can't find just the right shelving unit? Try this modern take on an old-school storage idea. It's easy to build and you can customize the colors however you'd like.
We're sorry, there seems to be an issue playing this video. Please refresh the page or try again in a moment. If you continue to have issues, please contact us here.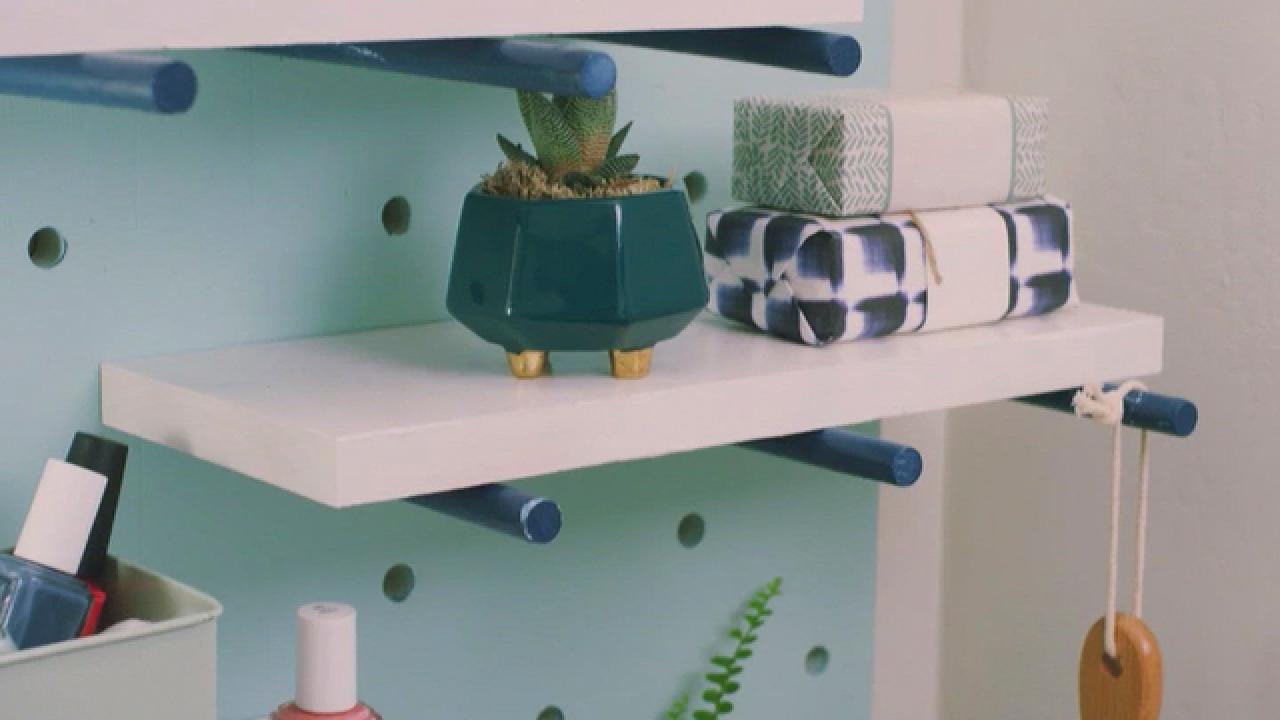 We installed our pegboard shelf in a bathroom, but it would also look adorable in a kitchen, foyer or kid's room.
1/2" dowels
(1) 1x6 x 8'
1/2" forstner or spade bit
1" x 18" x 24" craft board or plywood
measuring tape
pencil
straight edge
spray primer
spray paint
miter saw, circular saw or hand saw
graph paper
D-rings
screwdriver
painter's tape
Skill Level: Beginner
Estimated Time: 1 day
Estimated Cost: $200
Step 1: Mark Pattern on Pegboard
We used a ready-made 1"-thick craft board but you could cut a piece of plywood to whatever size you wish. Tape a large piece of graph paper on the craft board to mark the pattern for the peg holes. Start by drawing lines on the graph paper to create a grid then mark for the holes every three inches, staggering them on every other line.
Use a forstner bit to drill the holes directly through the graph paper. Make sure your drill bit matches the size of the dowel. Keep the drill at 90° to ensure the holes will be straight. When drilling, use a backer board behind the pegboard to prevent blowout.
Use spray primer on the pegboard then apply a coat of paint. Make sure you paint inside the holes too. We're putting our shelf in the bathroom, so a good coat of primer and paint will help protect the natural wood in the moist environment.
Step 4: Cut + Paint Shelves
Various shelf lengths will give you more design flexibility; we used four different sizes. Be sure to allow for a 1" to 1-1/2" overhang on either side of the pegs. Prime and paint the shelves.
The pegs should be cut to 6-1/2" long to be inserted completely into the holes and extend about 1/4" past the front edge of the shelf. Prime and paint the pegs.
Step 6: Add Hanging Hardware
Add D-rings to the back of the pegboard and then hang it up.
Step 7: Insert Pegs + Lay Shelves
Arrange the pegs and shelves as desired, then enjoy the added storage.