Kitchen Island Table Combo
Add a dining table to the kitchen island for a seamless but functional look.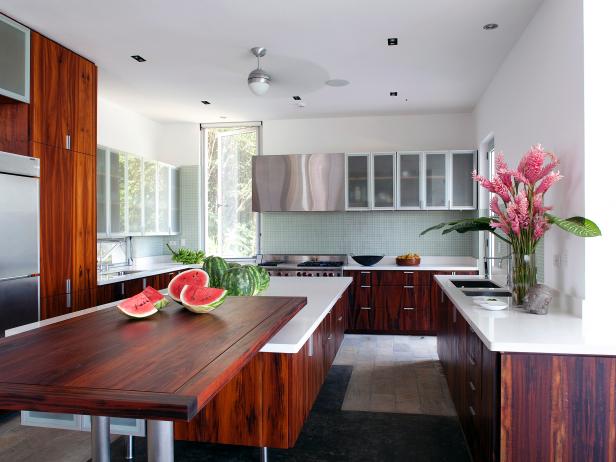 Contemporary White Kitchen With Dark Wood Cabinetry
The walls and countertops may be a cool shade of white, but sometimes the most color, saturation and pattern can be found in a beautiful piece of wood. This contemporary kitchen features a species of local wood and refined stainless steel elements for a crisp, polished look.
A kitchen island is the ultimate workhorse—providing extra space for storage, prep, display, an extra sink or maybe even a cooktop.
However, an island that also offers a dining table—whether it's a built-in extension, a suspended tabletop or insertion—is a trend that's here to stay.
Though the end result of a kitchen island-table combo may look simple enough, it requires a degree of finesse to pull off the look.
First, determine just how much extra storage and countertop space is needed to make the island itself as efficient as possible.
Next, and this will also be dictated by the amount of space available, decide exactly how many people the island table will need to accommodate on a daily basis. While bench-style seating might eliminate the need for precision, the style of your kitchen (farmhouse, modern, cottage) will ultimately dictate the type of seating you'll use.
Placing chairs on both sides of the island table is the best way to achieve the look of the traditional table, but the shape of your island (blocked, rounded, L- or T-shaped) will also help determine where—and how many—chairs are required so prep space (or elbow room) won't suffer.
More Kitchen Island Furniture Ideas