Without its legs, a kitchen island wouldn't have two "feet" to stand upon. Here's how to find the best ones for your design.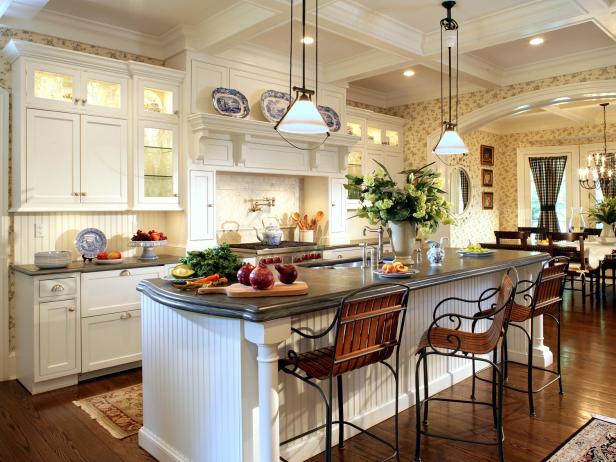 Captivating Cottage Style Kitchen
Full of abundant detail, this cottage style kitchen offers a little of it all. Peek-a-boo cabinets with lighting draw the eye upwards to the captivating tray ceiling. From there, the black pendant lights brings you back down to the dark gray marble countertops that sit atop white detailed cabinets. The blue and white plate detail and homey patterened wallpaper makes this cottage vibe come to life.
By:
Caroline Shannon-Karasik
In the midst of choosing a surface top, cabinetry, colors and seating, kitchen island legs might be the last design consideration on your list. But the addition of proper legs can make or break (pun completely intended) the overall design of your kitchen island.
The first rule of thumb is to choose the materials from which your kitchen island legs will be made. The material will typically match the overall design of the island, whether they be wooden, painted wood, metal or granite.
Once that has been decided, the height of the kitchen legs will be important to determine. The average kitchen island height matches that of the countertop in order to make it easy to transition between the areas. Keep this in mind when choosing your kitchen legs; a measurement of the counter height might help in this decision.
Several kitchen island legs are simple in design, relying on simple grooved wood or flat stainless steel. If you would like to add variation, play with square and round designs, in addition to those that include intricate carvings or are made from unique stone materials.
More Kitchen Island Accessories and Components
Other Kitchen Island Designs