Sleek surfaces, dramatic contrasts and bursts of color make modern kitchen islands both fashion-forward and fun.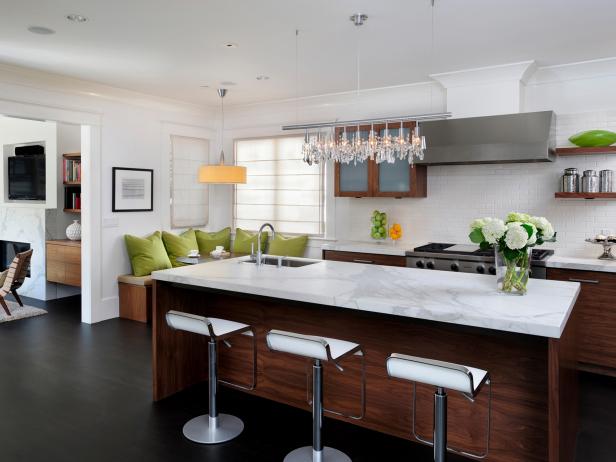 Transitional White Kitchen With Dark Wood Flooring
This transitional kitchen blends the best of traditional familiarity with modern sophistication to create a comfortable, livable space. The high-end Calacatta marble countertops and built-in breakfast nook lend the traditional elements, while the sleek wood-veneered cabinets and dark wood flooring add modern influences.
Sleek surfaces, clean-lined cabinets, brushed-metal (or hidden) drawer pulls—these are some of the tell-tale signs of a modern kitchen island. But don't let these contemporary design elements limit your imagination.
One of the easiest ways to add modern flair to the kitchen island: choose a signature color (think tangerine orange or lipstick red) to distinguish the space.
Whether or not that color is repeated in another kitchen design element is up to you—there's no rule that says an island's counter (or color) needs to match its counterparts on the perimeter of the kitchen.
Employing a monochromatic palette, such as a white-on-white, all-black or warm wood, is another way to add contemporary character to the kitchen island. If a monochromatic style feels too dramatic for your space, there are plenty of high-contrast ways to incorporate modern touches. Think polished wood or stainless steel used as an accent on the base of the island or in place of trim.
More Ideas for Kitchen Island Styles