Learn about the different options for kitchen cabinets and decide what's right for your home based on your budget and style.
As you start to renovate your kitchen, you'll notice right away that you'll probably spend a big chunk of your budget on cabinets. As such, it's important to know your kitchen cabinet options.
Take Stock of Your Existing Cabinets
It's important to know all of your options for buying or building your kitchen cabinets so that you choose wisely and are pleased with the final product. One thing to consider as you get your kitchen remodeling project under way is that you don't necessarily have to purchase entirely new cabinets.
Consider a Cabinet Facelift
If your existing cabinets are of good quality, still function, and their current existing layout works with the blueprint of your new kitchen, try refinishing them for a new look. Re-staining or repainting kitchen cabinets is the most affordable way to achieve a new look in your current kitchen. You can also try applying wood veneer to the existing doors to give them a fresh look as well. Finally, something as simple as replacing the hardware on the doors and drawers of your existing cabinetry can go a long way in changing the look of your kitchen.
Options When Buying New Cabinets
If you want to change the layout of your kitchen, or if the quality of your existing cabinets isn't good enough to keep in your remodel, you can always buy new cabinets. There are a variety of options for purchasing new kitchen cabinets including custom cabinets, semi-custom cabinets and stock cabinets.
Custom kitchen cabinets are just that—built to the exact specifications of your kitchen in the materials you choose. Custom cabinets allow you complete freedom over the function and layout of your kitchen, which is very appealing to many homeowners. The downside to custom cabinets is that they are very expensive and they require the longest amount of time to be built.
One step down in cost and labor-time is semi-custom cabinetry. Semi-custom kitchen cabinets are built with the homeowner's specific kitchen size in mind but are pre-built in specific dimensions. The range of colors, door styles and finishes is not as extensive as with custom-cabinets; however, they are significantly cheaper.
If semi-custom cabinets are still too high in cost, you can consider using stock kitchen cabinets. These are the least expensive type of new kitchen cabinet and are premade in standard sizes. Some people might be leery of the quality of stock kitchen cabinets; however, there are many manufacturers in the cabinetry market that offer a wide range of quality and options. If stock cabinetry is your choice for your kitchen, it is recommended that you research the options of manufacturers in your area and visit the showroom to see first-hand the quality of the cabinetry you are purchasing.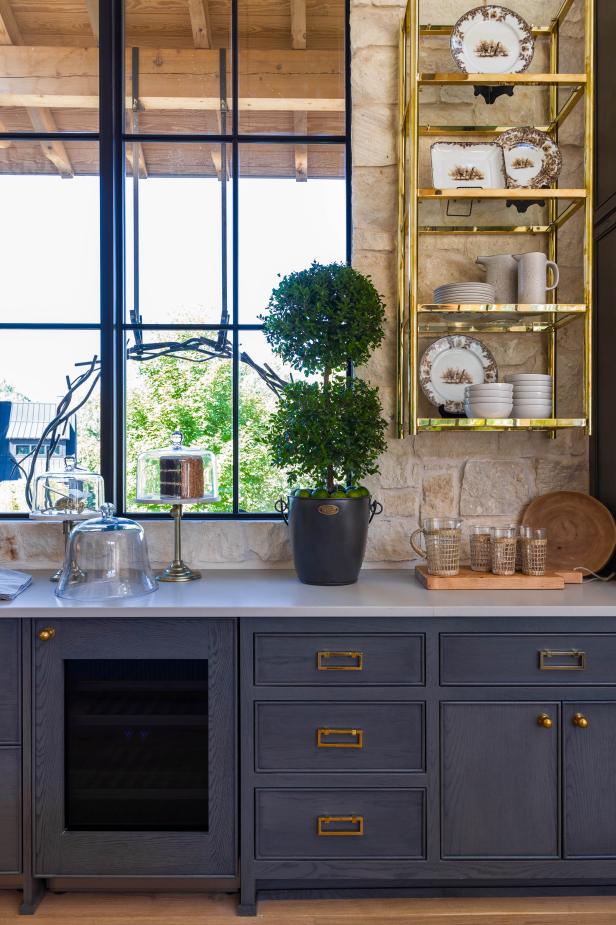 Farmhouse Kitchen With Brass Floating Shelves and Grey Lower Cabinets
"The cabinetry, including the fluted custom kitchen island, is by Bell Cabinetry, and the brass hardware throughout the kitchen is from Matthew Quinn Collection," designer Patrick Sharp says. The floating shelves' rich metallic tone is an unexpected and lovely choice against the pale limestone behind the sink; their angles both echo the lower cabinets and suggest etageres or curio hutches. A Jenni Kayne sea grass pitcher and highball glasses add an organic note on the counter.
Accessories and Hardware Offer Drama and a Design Refresh
Once you've picked out your specific kitchen cabinets, the fun can begin. Accessories such as door handles, knobs and drawer pulls, organization systems within the cabinets, and decorative finishes can be chosen to give you the custom look you are hoping for. Hardware comes in a variety of options at various price points, as do the cabinet interior organizational systems you can choose to add. Before choosing your finishing touches, be sure to research your different options to give yourself the function and design aesthetic you are hoping for in your new kitchen.