Explore your options for cottage bathrooms, and get ready to create a cozy and comfortable bath space in your home.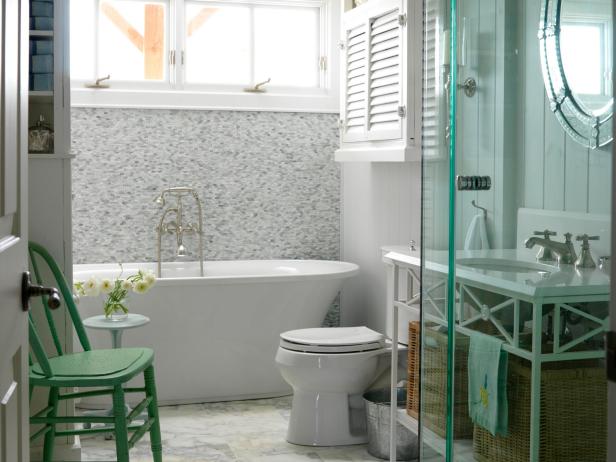 Charming Cottage Bathroom With Marble Floors
Colors from nature were incorporated into this master bathroom to create a charming cottage look. Mint green, split-face mosaic tile, exotic marble flooring and moonstone details spruce up inexpensive white tiles for maximum impact at a low cost. The transom window above the freestanding tub gives privacy yet fills the space with plenty of natural light.
Cottage bathrooms can lend an airy, bright feel to a home, inspired as they are by bathroom designs common in vacation and seaside properties.
The trademark feature of cottage-style bathrooms is bead board, which often appears on walls and cabinets. This traditional Cape Cod-style paneling works especially well when combined with bright color schemes and plenty of natural light.
Classic pedestal sinks are another common feature of cottage bathrooms. These substantial fixtures lend some weight to the overall design; they're often seen in white porcelain with traditional metal hardware.
Since cottage-style bathrooms are often so bright, another way to add contrast and substance is with natural wood. Whether featured on countertops, as molding or even as exposed crossbeams, natural or stained wood can add visual interest and help to bring outdoor elements into a cottage bathroom design.
Speaking of contrast, don't be afraid to mix and match materials and surfaces in a cottage-style bathroom. The prevailing theme may be light and bright, but bold patterns or colors on shower curtains, linens or tile can liven up the space, and distressed furniture can hint at a weathered, sea-aged aesthetic.
More Bathroom Styles for Your Home