Get rustic bathroom ideas and prepare to create a warm and welcoming country-style bathroom in your home.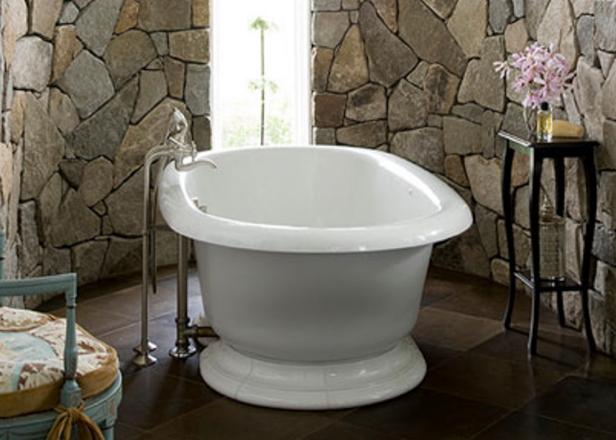 stone-bath_s4x3
Those walls! The curves and the fieldstone tile give this bathroom a warm, rustic feel that's balanced perfectly with the glamour of the tub and chandelier. I've been seeing more stone as tile lately but this scale is so dramatic. I'd almost welcome a hard day, just to have an excuse to come home and soak in this tub. Fieldstone, take me away!
Whether your overall style leans more toward laid-back country comfort, or you're just looking to add rustic design in certain areas of your home, you'll want to explore rustic bathroom ideas as you prepare to bring a bit of the outdoors inside.
The first place to start if you're considering a rustic bathroom design is with your choice of materials. In general, wood is the foundational material for any rustic design—and in bathrooms, wood will likely be best employed on walls.
You can employ beadboard paneling, stained to your liking, along with decorative wainscoting. Tones like greens and golden browns are great for a rustic feel, so explore these colors if you're thinking of painting or staining.
A traditional ceramic pedestal sink with a metal faucet can work great in a rustic bathroom design. In terms of accessories, complement the wood features with wrought iron, which can be used for everything from mirror frames to shelving.
Lastly, add fabrics with a hint of heft and durability. For example, consider a fabric shower curtain or towels in a rustic plaid or buffalo check design.
More Bathroom Styles for Your Home